Reminder: Medea's Escape On Kindle Countdown Deal Over Christmas:
The young adult mythological novel, Medea's Escape, is now available during the Christmas holidays for onl $.99 on Amazon Kindle. It is the Cheops Books LLC Christmas special, which has never been offered before. Find out how the Princess Medea escapes from Colchis on the Black Sea with the Golden Fleece and her new love, Jason, from Greece all while you try out your new Christmas Kindle or other reading device.
This is not your usual evil Medea as presented by the Greek dramatist, Euripides, who later kills her children just to spite the faithless Jason. And Medea's Escape does not present the faithless, philandering Jason. This version of the tale is based on the later Hellenistic version of the tale by Apollonius of Rhodes who wrote the Argonautica, which is also the basis for the one-time Harryhausen Hollywood movie from 1963. It is a happier tale with a happier ending full of mood, atmosphere, and setting — and certainly more young adult. Back in ancient times there was no one correct version of a myth. Writers made up their own. So I am following in this tradition two thousand five hundred years later.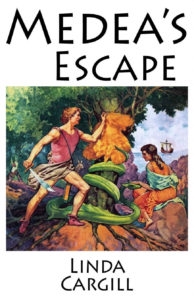 Save
Save
Save