Now that we've already had Ancestress and Moon on special, we will move to the next young adult thriller novel about Yellowstone and the Tetons as we celebrate the upcoming publication of the Old Faithful Plot later this year. This week we will be promoting Piano Player, a particularly eerie ghost story inspired by Yellowstone Lake. Starting on Wednesday Piano Player will be on an Amazon Countdown Special for $.99 only. This promotion will continue until next Tuesday. But hurry! This promotion will not be offered again this year. And the regular price is about ready to go up.
A young woman in white sails across the lake to Lake House, now deserted and abandoned from long ago. Her ghostly figure walks through the doors to the piano and begins to play Beethoven's Fifth. It echoes through the empty halls. A ghostly attendant brings her a news article about a girl named Beryl in Philadelphia, an heiress. They will write her and summon her to Lake House today. She must play the part that all the girls of Lake House are destined to play. It is fate.
Piano Player is brought to you by Edward Ware Thrillers YA, an imprint of Cheops Book, LLC. If you liked Piano Player you will enjoy other young adult thrillers by Linda Cargill such as Gondola, Nighty-Night, Old Man, My Aunt, the Witch, and Noah.
Piano Player will also be offered for only $.99 on the Cheops Books LLC website on the new promotion page at: http://www.edwardwarethrillers.org.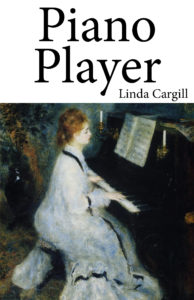 Save