This morning when I woke up I usually follow the QM2 to see where it is anchored that day. I knew it was on a world cruise and had just been in Korea. Where would it go next? I was surprised to find that the website said that QM2 was "not on a cruise". In the past this has meant that the ship was doing something unexpected such as looking for somebody who jumped overboard such as in August of 2015, the month after we were on the ship or in July of 2015 when we were last on the ship on the 175th anniversary cruise coming back to New York and we ran into the mysterious skiff at sea episode. But when I mentioned it to Gary he had a different explanation this time. Quite different and surprising!
Gary found that the Queen Mary 2 which is currently on a world cruise is being used in Theresa May's first foreign trade deal. it was announced by David Dingle, the Chairman of Maritime UK and the Chairman of Carnival UK, and John Hayes, the Shipping and Ports Minister and Member of Parliament, and the Trade Minister, Mark Garnier, that they are going to have a three day mission to Shanghai March 28-March 30. David Dingle is going to host a luncheon aboard the Queen Mary 2 which will be anchored there in Shanghai. He will host Chinese officials and government ministers. Where will they eat? We've been discussing it and have decided that it would probably be in the Queen's Room on deck 3. I should send you pictures. It is usually a ballroom but it adjacent to the main dining room and eatery, the Britannia Dining Room.
This is supposed to help improve trade and investment relations between the two nations. "The maritime industry has a unique role to play in making Brexit a success," Dingle says. "As Britain goes out into the world determined to increase exports and sign ambitious trade deals, Maritime UK has a unique responsibility to make Global Britain a reality," Dingle says. He addes, "We are ready to do so." It is all scheduled around the time that Theresa May is supposed to trigger the Brexit, Article 50, tomorrow, Wednesday, March 29.
Unique how Britain always uses cruise ships for political purposes such as Queen Mary 1 in World War 2 and now Queen Mary 2. Queen Mary 1, the original Queen Mary liner, is featured in Captive at the Berghof, one of the Edward Ware Thrillers at War Series.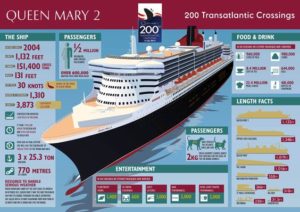 Save