Get Your Free Copy Of Jason And Medea: A Novel:
Get your free copy of Jason and Medea: A Novel by Dora Benley. It is the very latest in her series of Greek and Roman novels for teens. You won't find much else on Amazon like it. The ancient and classical category is not very populated with novels. So do not miss this opportunity that certainly will not be repeated this year. Indulge in mythology. Pretend you were up there on Mt. Olympus eating the nectar of the gods and feasting on grapes from the slopes of Mt. Parnassus or Vesuvius in Pompeii. Read about the heroes, goddesses, and princesses from long ago from now through the rest of this week.
Princess Medea lives in the dream-like Kingdom of Colchis along the Black Sea. It is the richest land in the world presided over by a gift from the gods, the Golden Fleece. Gold is as plentiful in this land as the sands on the beach. She and her sister go to do the palace laundry one day and discover a strange ship from a foreign land coming ashore on the Phasis River. Her father holds a banquet and Medea meets a golden-haired prince from far away who claims he has come here to win the Golden Fleece to take home to Greece with him. He is willing to fight for the Colchians or to buy the Fleece outright.
Medea's father, King Aeetes, at once summons his guards and warriors and throws the foreigner and his sailors in jail. Medea knows she must save this foreign prince or no one else will. But in order to save him she must betray her father and her people. It is a hard choice for one so young to make. But for Medea there is no turning back.
Jason and Medea: A Novel is Dora's Benley's latest Greek and Roman novel about the ancient world for young adults. If you enjoyed this romantic suspense novel, you will also enjoy her other works such as Julius Caesar: A Novel, Caesar and Cleopatra: A Novel, Medea the Witch, Helen of Troy, Minotaur, Cleopatra's Stone, Book of the Dead, and Julia: A Novel. Get your free copy today.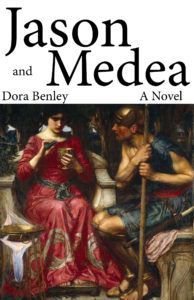 Save
Save