Captive At The Berghof At Frankfurt Book Fair:
Today is the beginning of the Frankfurt Book Fair in Frankfurt, Germany. It will go through Sunday, October 15. All during that time Cheops Books LLC will be displaying Captive at the Berghof: Part 1 in German translation, the third book of the Edward Ware Thrillers at War Series. It is the first book that Cheops Books LLC has ever translated into a foreign language. But we thought it was particularly appropriate because the historical thriller is about Hitler and the Third Reich. The novel will be on display at the IBPA booth  at the Frankfurt Book Fair.
Hitler has found out about Colonel Sir Edward Ware's secret undercover activities for Winston Churchill, and he's playing hardball. He kidnaps Thomasina, Edward's daughter, and won't give the child back unless Edward and his wife, Dora, hand over the key to world domination – the Lawrence maps. They'd better do something fast before Thomasina truly becomes Hitler's daughter.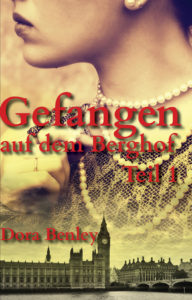 Save