Captive At The Berghof:
Hitler has found out about Colonel Sir Edward Ware's secret undercover activities for Winston Churchill, and he's playing hardball. He kidnaps Thomasina, Edward's daughter, and won't give the child back unless Edward and his wife, Dora, hand over the key to world domination – the Lawrence maps. They'd better do something fast before Thomasina truly becomes Hitler's daughter.
Photo Gallery
Reader Comments
Press Release
Sample Chapter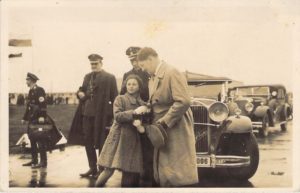 Hitler liked to take Thomasina to rallies where he would make speeches.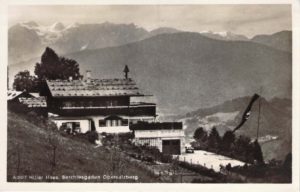 This postcard from the 1930s is a photo of the Berghof overlooking Berchtesgaden.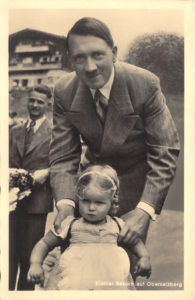 This antique postcard shows Hitler at the Berghof with Thomasina Ware.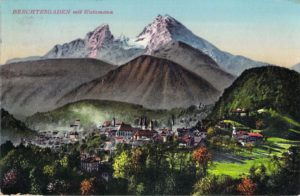 This is an old postcard that shows the area around Berchtesgaden where Hitler's Berghof was located.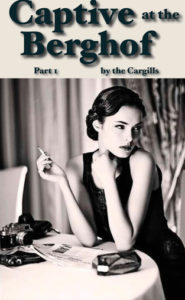 Order the Kindle edition of Captive at the Berghof: Part 1 on Amazon.com.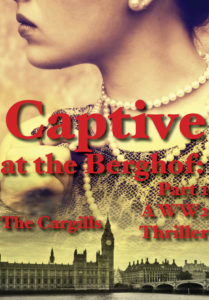 Paperback book cover of Captive At The Berghof: Part 1. The paperback edition is available on lulu.com. You can also purchase the book from Cheops Books directly through PayPal: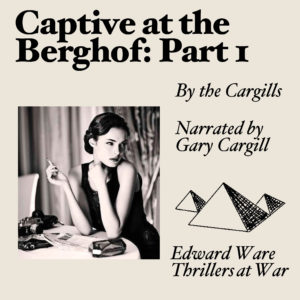 Order the audio book edition on Audible. The book is narrated by Gary Cargill, one of the authors of the historical thriller about WW2.
Captive at the Berghof: Part 1 Book Trailer
This book trailer takes you to Nuremberg in 1938. Hitler is about to give the speech that Dora and Edward have been dreading. It is the speech that will sweep their daughter away from them and make her Hitler's Daughter.
Dora and Edward attend the ball at Prussia House in London. Dora is forced to dance with Herr von Wessel, a German spy who works at the German Embassy. Soon she finds herself being kidnapped. The price for her return: the Lawrence maps.
Zeppelin Field
The Zeppelin Field Tribune is pictured. Here Hitler harangued crowds in Nuremberg in the 1930's. To the right are propaganda shots of Hitler and the little girl.
Epic Historical Fiction Thriller:
If you like novels during the period of Adolf Hitler, this one is for you.
The book starts out with a tensely constructed dinner scene with Adolf Hitler. The main characters Colonel Sir Edward Ware and Dora, Lady Ware are scared that the Führer might kidnap their daughter, if they don't hand over the Lawrence maps. The late Lawrence of Arabia had drawn up these maps for the British military to prepare for the next European War. Hitler wants them.
The suspense grows from there. Hitler even toys with the Ware's by holding onto their baby. Great scene.
Through out the story there are large historical figures who have frequent cameos such as Churchill, Chamberlain and Goering. The story is easy to read and has a dark period tone and well written characters.
As it is part of a series, the author was smart to have an ending that leaves you wanting more.
by Amazon Customer Phil Philips, author of Mona Lisa's Secret
Save
Save