Ancestress: Still On $.99 Promotion:
From now until Wednesday you can still buy Ancestress for only $.99 and download it on Amazon Kindle. It is on an Amazon Countdown Special until then. It is one of Cheops Books LLC's Yellowstone thrillers, a young adult mystery suspense novel.
Irene moves with her parents to the wilds of Montana so her parents can work in Yellowstone studying bears and other wild creatures. It is bad enough to be away from her friends in the middle of nowhere. She even gets a weirdo note in the mail from her old boyfriend who did not want her to go that threatens that the bears are going to eat her. But their new house is strange, too. It is full of old portraits on the walls. One of them is particularly compelling. An elegant lady from the nineteenth century with a fancy necklace is starting straight at her. Irene cannot look away. No matter where she goes in the room she cannot escape it. It creeps into her dreams. Is this house haunted? Or did somebody put the portrait there to scare her away? Maybe it wasn't her former boyfriend after all who had sent the threatening notes about bears. Who doesn't like her? She had better figure it out, or Irene might end up dead.
Ancestress was originally published in German by Cora Verlag, Harper Collins Germany. It is now brought to you by Edward Ware Thrillers YA, an imprint of Cheops Books, LLC. If you liked Ancestress, you will enjoy other young adult thrillers by Linda Cargill such as Pool, Cave, Shade, Moon, and Snow.
Ancestress will be published as a collection with Cheops Books LLC's other Yellowstone novels and thrillers soon, including the Edward Ware Thrillers at War title, Old Faithful Plot.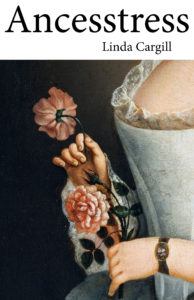 Leave a reply