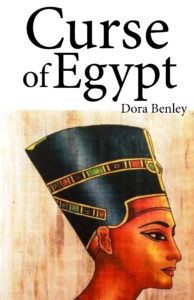 Sondra returns from a day out with her Dad in Charlottesville, Virginia where she lives with her mother and grandmother. Her dad asks her as always if she wants to come and live with him in Tucson. She says as usual that her mother and grandmother depend on her. They discuss why her parents got divorced. Her father confesses as usual that he doesn't know. Her mother just left one day without explanation and took Sondra with her.
Sondra rushes into the house to plant a bare root rose. Her mother and grandmother depend on her to do the yardwork, too. But while she is digging in the backyard she comes upon a strange golden object. Her next door neighbor, Stew Hoolihan, says it looks like a museum piece and they ought to call the police.
Immediately when she goes inside her mother says that she has called her father and agreed that Sondra should indeed live with him in Tucson. Sondra cannot figure out why. Does it have to do with the golden object found in the backyard? What do her mother and grandmother know about it? What are they concealing from her? Sondra had better find out. It soon becomes a matter of life and death. Ancient civilizations from long before she was born are helping to determine her fate.
If you liked Curse of Egypt you will enjoy other novels by Dora Benley such as Cleopatra's Stone, Caesar and Cleopatra: A Novel, Medea: the Witch, Minotaur, and Helen of Troy.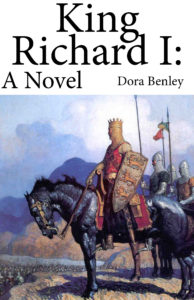 Elizabeth is a lady in waiting to Queen Eleanor of Aquitaine during the time of her confinement at Salisbury Castle. Queen Eleanor is a woman of remarkable powers, some say dark powers. Elizabeth learns to be a witch from her and takes up the lore of gathering herbs in the woods. The Queen then directs her to accompany her newly crowned son, King Richard I, to the Holy Land on the Third Crusade. She is to protect him against all evil, especially the scheming of Prince John, the new king's brother, who wants to crown himself in his stead.
Elizabeth sails to the Holy Land to take up battle with the infidel. But she finds herself in an unexpected quandary. Instead of King John the enemy kidnaps her and threatens to put her into a Middle Eastern harem. They threaten to take her away from the man, King Richard I, whom she is sworn to protect and defend. But in the oddest fashion of all, she finds herself falling in love with her captor, a Saracen. What is Elizabeth to do? She cannot forget her oath to the Queen. But she also cannot betray her own heart.
If you enjoyed Richard 1: A Novel you will like other young adult novels by Dora Benley including Livia: A Novel, Julia: A Novel, Julius Caesar : A Novel, Book of the Dead, Minotaur, and Helen of Troy.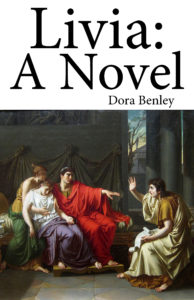 Livia: A Novel
Livia has just returned from her search to find her fiance, Octavius, heir of Julius Casesar, in the wake of Caesar's assassination. Octavius has fled Rome, and she was trying to save his life. She gets captured by pirates for all her trouble. When she finally catches up with her fiance she can no longer marry him. She learns that her own family, the Claudians, were behind Julius Caesar's assassination. She can be Octavius's mistress and nothing more. A proud girl, she spurns the thought and figure she must give him up for good.
Livia describes herself in her diary at this sad impasse:
"I can just imagine what I looked like: long coils of black hair curled in ringlets plas­tered all over my face, my neck, my bosom, and my shoulders — pasted on by dried salt and brine. A red silk dress clinging to my figure and slipping down over one shoulder a bit too far. Here and there still a jeweled earring or ankle bracelet poking through as a sad legacy from my other life. Looking all together like a prow ornament that had been fished up from the depths after some long ago shipwreck."
At this low point of her life Livia would be surprised to learn that she will somebody marry the man she loves and stay married to him for 52 years. It will become one of the most legendary matches in Roman history and one of the most historically important, too. Just how this comes about is the story of this piece of fiction: Livia: A Novel by Dora Benley, another one of this author's ancient Greek and Roman novels. If you liked this story about ancient Rome for young adults, this novel about Livia and Augustus, you will also like Book of the Dead, Helen of Troy, Cleopatra's Stone, Caesar and Cleopatra: A Novel, Julia: A Novel, Julius Caesar: A Novel, Medea the Witch, and Jason and Medea: A Novel.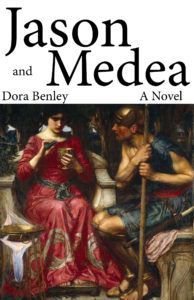 Jason and Medea: A Novel
Princess Medea lives in the dream-like Kingdom of Colchis along the Black Sea. It is the richest land in the world presided over by a gift from the gods, the Golden Fleece. Gold is as plentiful in this land as the sands on the beach. She and her sister go to do the palace laundry one day and discover a strange ship from a foreign land coming ashore along the Phasis River. Her father holds a banquet, and Medea meets a golden-haired prince from far away. Jason claims he has come here to win the Golden Fleece to take home to Greece with him. He is willing to fight for the Colchians or to buy the Fleece outright.
Medea's father, King Aeetes, at once summons his guards and warriors and throws the foreigner and his sailors in jail. Medea knows she must save this foreign prince or no one else will. But in order to save him she must betray her father and her people. It is a hard choice for one so young to make. But for Medea there is no turning back.
Purchase a paperback copy of the novel for $12.95: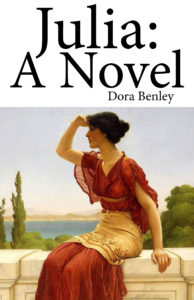 Julia: A Novel

Julia has every reason to wish that she had not been born the daughter of a Roman senator during the Roman Civil Wars of Marius and Sulla. Her father, Rufus, is trying to escape the proscriptions lists and save his life by betrothing his only daughter in marriage to Marcus Sisenna. Marcus Sisenna is the right hand man of Marcus Sulla, one of the leading men of Rome of the day. Rufus needs his armies and the protection both Sulla and Sisenna can provide. But Julia does not want to marry a man who has already had five wives and who is just marrying her for her father's money and estates. She does not want to be added to his collection of trophies. Julia wants personal happiness despite the time period into which she has been born. Her father thinks only of keeping his wealth and estates together. Her divorced mother is interested only in her own lovers. To whom shall Julia turn for assistance? The answer may surprise you. For it is obviously just the opposite of what the desperate Julia might expect.
Purchase a paperback copy of the novel for $12.95: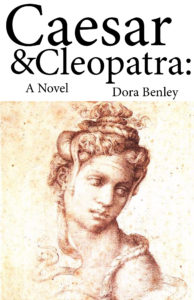 Caesar and Cleopatra: A Novel
This historical thriller by Dora Benley opens with Queen Cleopatra in exile roaming about the Sahara Desert with her serving women trying to survive. She is at war with her brother, King Ptolemy. Suddenly the famous Roman general, Julius Caesar, arrives in town and summons Cleopatra to Alexandria. The well educated, clever Cleopatra wants to make the best of a dangerous mission where she risks arrest and execution by her brother's guards. She wants to make sure that the Great Man from Rome, Julius Caesar, Conqueror of half the world, is on her side before her brother Ptolemy can grab his ear.
The seventeen year old teenager concocts a scheme that will awaken Caesar's sensibilities and appeal to him directly for his protection. She orders one of her servants to spirit her into Alexandria wrapped in a carpet. She is put down on the floor before Caesar.
"Very well, Queen Cleopatra, you can come out now," Caesar commands.
With a spring of the wrist, Caesar unrolls the carpets. She finds herself sitting on the floor gazing up into the blue-gray eyes of the Roman conqueror. Cleopatra imagined he would be a colossus with giant sinews and great stature like Hercules. But he is a tall man on the thinnish side with a balding head and goiter in late middle age with a perfectly proportioned bone structure and an aristocratic, firm mouth.
So begins the adventure of Caesar and Cleopatra.
Purchase a paperback copy of the novel for $12.95: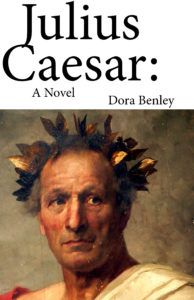 Julius Caesar: A Novel
In old age and in exile Servilia, mother of Marcus Brutus, awaited the suicide order from the Emperor Augustus, Caesar's heir, who put to death all of Julius Caesar's enemies. But instead he asked her to return to Rome and advise him as she once advised his predecessor, whose mistress she was. He wanted her to help raise the daughter of her old enemy Cleopatra, whom he brought back from Egypt after the death of the Serpent of the Nile: "Rome … that great maw of cites, the eater of men that ground and chewed up lives as if they were mere sandy grit between its teeth and then spat them out again. Through endless cycles of the seasons, revolutions, civil wars, and lives always the same. Did I have enough strength in this feeble body to war with her again? The child looked up at me. The answer was on my lips."
See what you think of this historical thriller from the point of view of Servilia, Julius Caesar's lifelong friend and mistress. She provides her own perspective on the colossus among men caught between the Republican faction of old Rome and those longing for empire.
Purchase a paperback edition for $12.95:
Save
Save