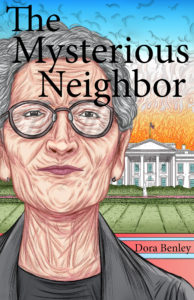 Teenager Madeline Anthony-Pratt climbs over the wall to her neighbor's one night to retrieve her cat. Intruders appear. She hides in the shadows. They whisper in a foreign tongue and hold out a Pepsi can with black crud on it. They light a match.
Why are they trying to blow up her neighbor's house tonight? The men aren't telling as the match gets closer to the wick.
In Mysterious Neighbor Madeline and her boyfriend, Drew, are left to deal with matters as best they can, and even Drew can't help much. He had just enlisted in the military. No adults seem willing to help except the old lady next door, the mysterious neighbor, who is being targeted by the thugs. She has all too much to tell Madeline. And the teenager can count the seconds ticking away on her life after she finds out the dangerous information the old lady has to impart to her.
This is no ordinary plot. It's bigger than 9/11 and far more devastating. It has been two thousand years in the making.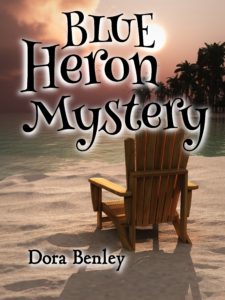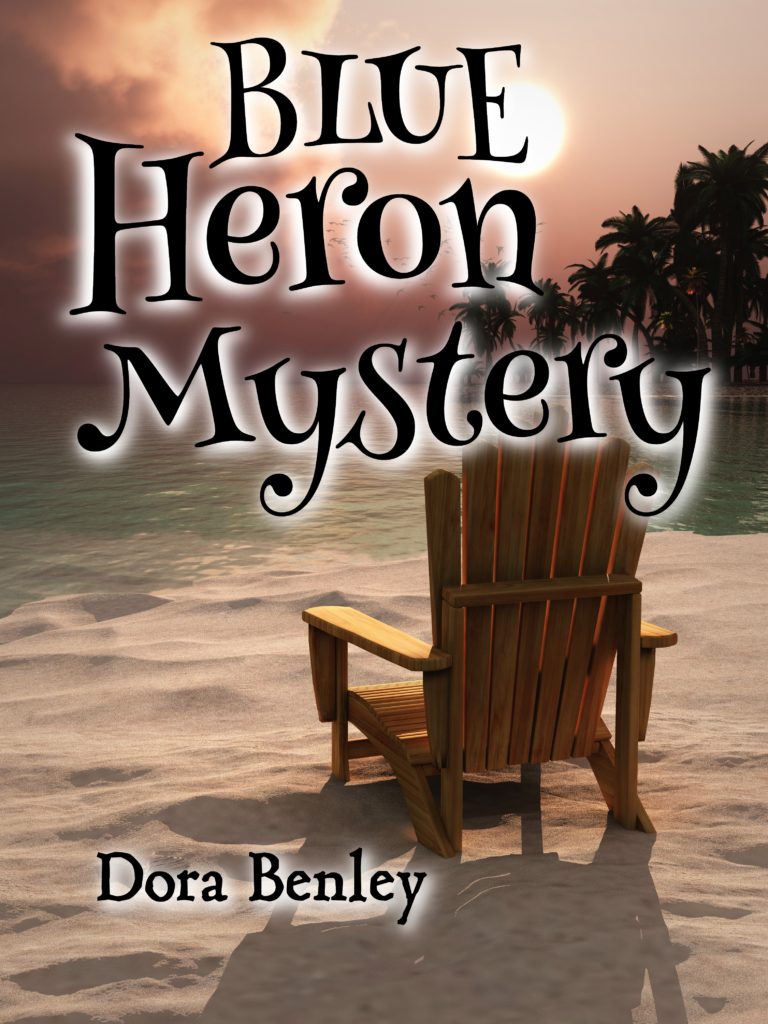 Melissa's parents have moved to Hilton Head Island to pursue their real estate dreams in her senior year in high school. Her social life crashes. Her old boyfriend runs off with the class flirt, leaving her with no one. She is having trouble making friends in her new high school. Even worse, her parents keep wanting her to babysit her new baby sister, Nancy, and that makes her even more of a social outcast.
When Melissa thinks she has reached her peak of being out of it, things take a radical turn for the worse. She is walking on the beach after she has a blow up with her mother about taking care of Nancy. First she stumbles into a huge blue heron who scares her to death. Then she stumbles into a dead body of a girl in a beach chair looking out to sea. The police show up. They think she did it. Is somebody trying to frame her? What does Melissa do next? She had better figure it out soon before she ends up in jail for life.
If you liked Blue Heron Mystery you will enjoy other young adult thrillers by Dora Benley such as Mary's Gone, Latin Lessons, Rose Red, Murder on Spirit Island, Murder in Jasper, Silver Wolf Moon, Back to Venice, Murder On Hollywood Beach, and Ophelia Plot.
Blue Heron Mystery starts the evolution of a theme in Dora Benley's novels that becomes even bigger in other series — kidnapping little girls. The kidnapping of Nancy in this thriller develops into the kidnapping of Little Katie in the Dark Series and ends up as the kidnapping of Thomasina Edwina Ware in the Edward Ware Thrillers at War Series.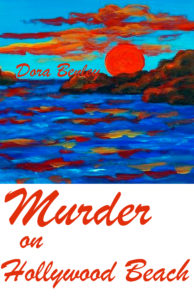 Murder On Hollywood Beach:
A prowler is after Gina in her California seaside mansion where she has lived by herself since her mother's death in a questionable airplane accident a few years before. She gets constant notes from the stalker: "Come to me, my bride, my love. We will be united in death". She is afraid to emerge from her glitzy mansion, wondering if this creep was her mother's killer, too.
She is surrounded by a houseful of servants, some of whom seem suspicious such as the gardener. He is always watching her. Certainly there is no one she can trust. Enter Bruno, her ex-boyfriend, the sex maniac who is still trying to persuade the recluse Gina to leave her mansion on the rocks by the crashing sea and go swimming or have a party or drive along the coast, or something else equally dangerous.
But what is Gina to do? Whom else can she trust besides Bruno? She had better get it figured out quickly, or else Gina, the daughter of the dead and beautiful Hollywood starlet, will soon become very dead herself.
If you enjoy Murder at Hollywood Beach you will enjoy other young adult thrillers by Dora Benley that have a romantic edge such as Silver Wolf Moon, Mary's Gone, Latin Lessons, Rose Red, Murder on Spirit Island, Murder in Jasper, and Ophelia Plot.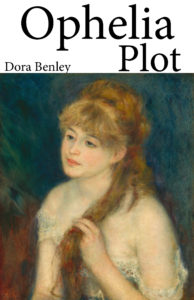 The teenage heroine is playing the part of Ophelia on the stage back at her high school. Suddenly when Hamlet is lamenting over her dead body, for she was supposed to have committed suicide to escape the wild Danish prince, the lid to the coffin slams shut. She does not remember anything else until she wakes up in the trunk of a car in a car repair shop in Hole, Arizona where she has never been before in her life. Worse, she cannot remember anything except a few lines from the play:
Tomorrow is St. Valentines Day
All the morning betime.
And I a maid at your window,
To be your Valentine . . .
Those had been the lines that her character on the stage, Ophelia, had been reciting near the stream where she killed herself. At this point the heroine cannot even remember her own name, though she is dressed in diamonds and expensive clothing.
She is thrown out of the car repair shop with a wad of money in her hand and stumbles into a bar and grill where other teenage girls start picking on her because she looks so out of it. She does not know where to go next. Has she been robbed? Are thugs after her? She had better figure it all out soon or she will find herself dead.
If you enjoy Ophelia Plot you will enjoy other young adult thrillers by Dora Benley that have a romantic edge such as Silver Wolf Moon, Mary's Gone, Latin Lessons, Rose Red, Murder on Spirit Island, and Murder in Jasper.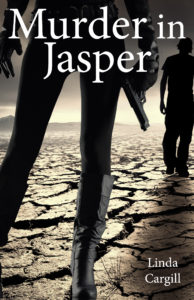 Millicent is haunted by bizarre images of a spooky landscape that she has never seen before in her life. As soon as she closes her eyes at night she seems to be transported to a different world. Fissures and cracks open up in the earth. There is rumbling and groaning. The Earth speaks to her in different voices. Waters from all sides fill in the fissures and holes in the earth, boiling and bubbling up.
She wakes to the sound of "Who? Who? Who?" Owls perch in the trees outside her bedroom window in her house in Alberta, Canada in the town of Five Hundred Lakes. She looks a the portrait of her boyfriend, Andrew Stark, in the photo by her bed. He disappeared a year ago in a search and rescue mission in the Rocky Mountains.
Her cat brings her a package wrapped up in bows addressed to "My Can Do Girl." She opens it up and finds a gold pin. It was the second anniversary of the day she met Andrew at a race and he helped her over the finish line and called her "My Can Do Girl". She wonders how such a thing is possible.
Millicent looks out the window into the Rocky Mountain landscape and wonders if he is still out there somewhere. Is he perhaps calling to her from the dream world that she visits every night, the one with the dry, cracked earth and the bubbling waters? Is it a real place that she must find? Can she find the answer to what happened one year ago there? Millicent had better figure it all out very, very soon because there could also be someone or something lingering in the shadows that wants her as dead as Andrew.
If you enjoyed Murder in Jasper you will also like other titles by Dora Benley such as Rose Red, Mary's Gone, Latin Lessons, Murder on Spirit Island, and Back to Venice.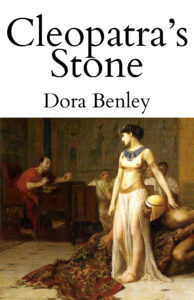 Lucius Antonius has sailed to Alexandria, Egypt along with Julius Caesar's triumphant legions in pursuit of Pompey the Great. Caesar may be able to clap Ptolemy, the boy king, in irons. But his sister, Cleopatra, is another story. Just returned from hiding out in the Arabian Desert, she has chiseled a black stone of unknown age from a sacred monument because the bauble appeals to her. Assassins are on the loose to get revenge for the desecration. What will Cleopatra do to protect herself? The Serpent of the Nile is full of wiles — deadly ones for Caesar in this historical thriller novel, Cleopatra's Stone, by Dora Benley.
Cleopatra's Stone is brought to you by Edward Ware Thrillers At War, an imprint of Cheops Books, LLC. The novels tell the story of Edward Ware's family from ancient times in ancient Rome to the present day, always involved in war and conflict and with the British Isles and eventually America as a home base. If you liked this novel try other Edward Ware Thrillers At War novels in the same series by Dora Benley such as Dark 3: Special Edition. You might also like other ancient Roman novels such as Caesar and Cleopatra: A Novel, Julius Caesar: A Novel, Livia: A Novel, and to be published Roman novels such as Julia: A Romance, Pliny: A Novel, and Caesar's Lost Legions.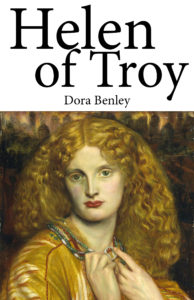 First-novelist Dora Benley recounts the fall of Troy from Helen's point of view—in this spirited page-turner that placed in the National Writers Book Contest.
Though brought up to inherit the role of her mother, Queen Leda, as keeper of the ancient mother-goddess cult increasingly suppressed by the reigning kings, beautiful Helen of Sparta initially fails to hear the Goddess of Heaven's voice within her. And no wonder—the hormone-bedeviled teenager lusts after handsome Meneleus, whose family has offended the Goddess by looting her temples for bronze. Upon Leda's death, the Goddess offers Helen the choice of marrying Meneleus at the cost of a life of misery and the destruction of Sparta, or sacrificing him in favor of older, craggy-faced Odysseus—the "wisest among the Achaeans"—with whom Helen would enjoy a long, happy reign as Sparta's queen. Naturally, Helen chooses Meneleus, and thus follows betrayals, misunderstandings, and intrigues that lead to the destruction of Sparta and Troy. Kidnapped by Paris, forced to marry him and bear sons by his cleverer brother, Deiphobus, Helen concentrates on protecting the hordes who worship her—whether as the Goddess on Earth in Sparta or as Inanna in Troy.
Her efforts to play out the Goddess's maternal role are at cross purposes with the male rulers' ambitions, however—and constant misunderstandings result. Herding her subjects out of besieged Sparta, she is accused of abandoning her post. Refusing to abandon her Trojan sons when Meneleus arrives to rescue her, she commits treason. Then, attempting to free the Trojan people from their despotic rulers by allowing the Trojan horse within the city walls, she betrays her Trojan husband.
Kirkus Reviews says of the Helen of Troy novel: "Dora Benley's portrayal of Helen as supporter of the people and clever, if misunderstood, female in a world of men—as opposed to the more familiar fickle housewife—keeps this classic, action-packed tale bubbling to the last huzzah. An auspicious beginning —and a delightful read."
If you liked Helen of Troy you will enjoy other novels by Dora Benley including the Julius Caesar: A Novel, Caesar and Cleopatra: A Novel, Medea the Witch, Minotaur, and Cleopatra's Stone.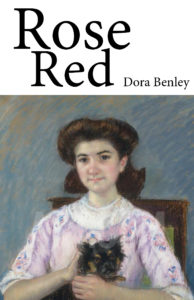 On Diana's first day of school at Tucson High a stranger is staring at her. He has a wilted rose in his pocket. She asks who he is. At first nobody will tell her. Then they shove an old newspaper story at her about how a girl from the high school was found murdered with a wilted rose vine around her neck, and that young man was arrested for the murder. But he got off on a technicality and got away with murder.
Diana shivers when she finds one of his wilted roses on her locker next. What should she do? If she doesn't figure it out, she may be the next victim.
Rose Red is brought to you by Edward Ware Thrillers YA, an imprint of Cheops Books, LLC. If you liked Rose Red you will enjoy other young adult thriller novels by Dora Benley such as Mary's Gone, Latin Lessons, Murder on Spirit Island, Murder in Jasper, and Silver Wolf Moon. You might even enjoy the Dora Benley's latest novel in the Edward Ware Thrillers at War Series, the Salisbury Affair.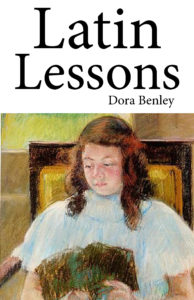 Vincentia had just returned from a summer at Bryn Mawr College where she was studying Latin to keep up with her boyfriend, Lyle, the class valedictorian. But when she lands herself at the train station the night she arrives home again Lyle isn't there as promised to pick her up.
He sends her messages on her cell phone about how she should mind the ablative case. It will do her in every time if she doesn't watch it when she is translating Cicero.
But at the same time he keeps telling her he is being mobbed by his father's legal clients. They are massing on his office in downtown Tucson with complaints and dark looks. Lyle's father is bogged down in court. Lyle cannot reach him.
And somehow Vincentia can't reach her boyfriend as the shadows deepen at the train station and everyone else leaves. She is left all alone waiting for Lyle. And when she finally sees his car and runs for it, it starts up. And it isn't Lyle at all. It is some strange boy driving his car taking her somewhere other than home.
Latin Lessons is brought to you by Edward Ware Thrillers YA, an imprint of Cheops Books, LLC. If you liked this young adult thriller by Dora Benley you will also like Mary's Gone, Rose Red, Murder on Spirit Island, Murder in Jasper, and Silver Wolf Moon.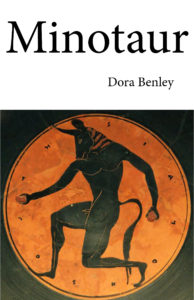 A knock in the middle of the night decides Oneone's fate. Her father has just been murdered mysteriously. The Court at Knossos summons her to serve. She must give up her fiance, the Prince of Zakros, and follow the messengers. She cannot be sure who has called her or for what reason. As she is kept waiting outside an anteroom in the Palace, she studies a bull rhyton lying on the floor and gazes into its wondrous eyes. It has no answers.
The Mother Goddess has reserved a special fate for this young woman. She will not guess at its magnitude and importance until a smoking volcano lays waste the kingdom and the waters of the sea rise up to engulf it in this historical mythological novel about ancient Greece at the time of the Minoans by Dora Benley. A reader says, "A whole other world and an interesting take on the Minotaur legend. I expected something different but was pleased nonetheless. Transports you to a time of hardships and triumphs with many tears shed in between."
If you liked Minotaur by Dora Benley, you will like Dora Benley's other novels including Book of the Dead, Helen of Troy, Curse of Egypt, Doom of Egypt, and the Pharaoh's Curse.
Purchase paperback version now for $12.95
Save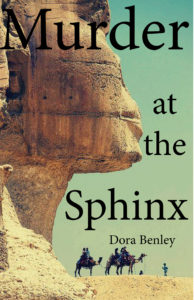 Dora, Lady Ware, her husband, Colonel Sir Edward Ware, his boss, Wickie, and Wickie's wife, Jane, all travel to the Sphinx outside Cairo for the Christmas holidays when Edward's mother, the Dowager Lady Ware, comes to visit in the 1930's between the wars. There are mystery figures hanging about even on top of the Sphinx and Dora cannot quite make them out. When she is left alone for a moment, a stalker approaches her and threatens her if she does not hand over the military maps that they want. She flees and the stalker chases her. She finds herself on top of the Sphinx with a spitting cobra, only to be saved by Leopold, a young man who has befriended her. But he is suddenly gunned down. But whom? And who is Leopold? Dora had better find out or she could soon be dead, too, in Murder at the Sphinx, a new thriller by Dora Benley.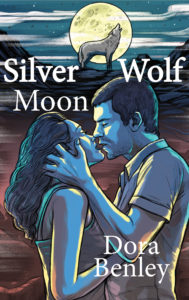 Darcy Devon can't take it anymore. Her millionaire parents won't stop bugging her to date Randolph King, the son of an English client of theirs. She runs away to live in her grandparents' house in the wilds of Montana.
But no sooner does she unpack her suitcase than she notices that somebody who looks like an uncouth madman is following her. Nobody knows who he is. When she goes swimming, somebody is watching her. When she goes to bed, somebody is outside looking in.
Wolves howl at midnight. She looks up at the sky and sees a black moon and shivers. What does this strange dude want with her? Is he escaped from an asylum, or is it something else?
The young adult romantic thriller Silver Wolf Moon was originally published in German by Cora Verlag, Harper Collins Germany, as Silver Wolf. If you liked Silver Wolf Moon you will enjoy other young adult thrillers by Dora Benley such as Rose Red, Murder in Jasper, Mary's Gone, Latin Lessons, and Dark 3: Special Edition.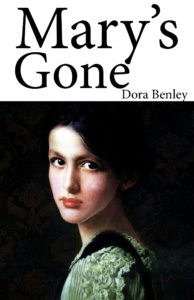 Chill Out On St. Simons Island:
Creepy St. Simons Island is the setting with the live oaks with drooping moss and big roots that jut up out of the ground and look three hundred years old. Mosquitoes the size of your fist buzz near your leg and vampire-like drive you back into your car. Alligators with yellow eyes spy you from the nearest swamp, and this is the land of swamps. You won't be able to find your way around the black water with reeds growing out of it any time soon.
Judy has the creeps. Nothing like this brutal stabbing and strangling has ever happened on St. Simons, a peaceful island off the coast of southeast Georgia. She's seen such things only on TV. But here it is, staring straight back at her from her iPad!
There's been an attack on a teenage girl her own age at Dunbar Creek, near Ebo Landing in the swamps. It's a site often visited by ghost tours because of its ghoulish history. Legend has it that a girl from plantation days often appears with a lantern in hand searching for her lost love.
Whether there's a ghost or not, Judy has no idea. All she knows is that she'd better figure out what's really going on. The voice that calls her on her cell phone, the one claiming to be the girl from long ago named Margaret the Wanderer, promises that Judy will be her very next victim.
Mary's Gone is a young adult thriller published by Edward Ware Thrillers YA, an imprint of Cheops Books, LLC. Stories out of the past. It is one of several novels set on St Simons Island. If you enjoyed this book, you might like Dark 3: Special Edition, which is also by Dora Benley.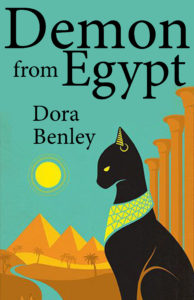 In Demon From Egypt Cheryl must spend the summer cleaning the beach house and collecting mail for the new tenant. The only problem, he doesn't seem to be anywhere. There is no food in his refrigerator. He has no mail to bring in. When she tries to clean the basement, the door is padlocked and bolted.
What kind of weirdo is this? He paid for his whole year lease upfront with cash sent from a rental agency that doesn't even exist. Is he a criminal of some kind?
Cheryl need only turn to her cat. He likes to prowl around the place at night. He discovers wild goings on in the basement of the supernatural kind. The place is haunted to say the least by not by anything ordinary. An ancient evil inhabits the place. From the days of ancient Egypt and Greece comes a monster. If Cheryl doesn't watch out, she soon will be dead.
Demon From Egypt was originally published in German by Cora Verlag. If you liked Demon From Egypt you will enjoy Dora Benley's other ancient thrillers including Caesar and Cleopatra, Minotaur, Book of the Dead, Cleopatra's Stone, and Helen of Troy.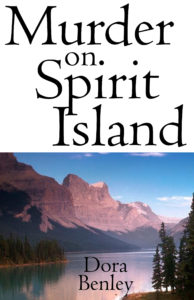 Edith can't go to school without finding Stripes. She and her lab, Tricks, search through the backyard with no luck. She sees a van parked in front of her driveway. They dog dashes aboard. She follows. The door slams behind them. They are headed up the road and out of town past her grocery store and even her high school where she was supposed to take a math exam today. She screams and yells but the driver won't stop.
As the van drives farther and farther north, only gradually does it dawn on Edith that she's been kidnapped. It doesn't make any sense to her that the girl in the cab is Eliza Fitzhugh, her next door neighbor from up the street. It makes even less sense that the driver looks just like some guy that she saw long ago last summer in a movie of her parents' wedding from twenty-five years before.
She finds herself transported all the way to a place she has never heard about before called Spirit Island. What do people there want with her? Edith had better figure it all out soon, or she might end up dead.
If you liked Murder on Spirit Island, you will also enjoy other young adult thrillers, supernatural horror tales, time travel novels, and romantic historic thrillers by Dora Benley including Back to Venice, Book of the Dead, Doom of Egypt, Rose Red, and Julia: A Romance.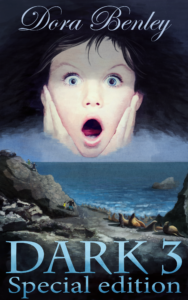 Bianca mourns for her old friend Doc who helped her overcome her fear of the dark after being the only witness to a brutal murder on St. Simons Island. He was driven out of town two years ago when the locals concluded that he must be the killer. She last saw him parachuting from a plane escaping from the law, a fall he couldn't have survived. She's moved to California with her employers, the Shipleys, and taken on a permanent babysitting position with Little Katie. Suddenly there's a kidnapping attempt on the rich little heiress that Bianca is employed to protect. To the rescue comes a tall, dark young man who reminds her of somebody she's lost. But it just couldn't be . . . After all, he's dead. And after all . . . he's supposed to be the bad guy.
Dark 3 concludes the Dark Series for young adults, first published by Scholastic UK. It also ties into and concludes the Edward Ware Thriller Series of historical novels about World War 1 and World War 2 with the biggest surprise ending of all time. The novel will be published by Cheops Books LLC on September 15.
Teens rarely need an excuse to stay up late, but The Dark by Dora Benley would give pause for thought to even the most steely nerved youngster. A genuinely gripping horror story. Approach with caution.
The Sunday Independent, Dublin, Ireland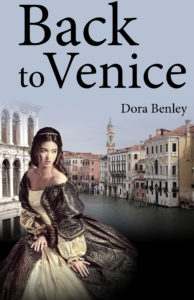 Back to Venice Through A Time Tunnel:
Eighteen year old Alexandra Banks yawns and stretches as she asks her chauffeur where they are. Charles says the Coronado Bay Resort in San Diego. Alexandra thinks it looks like Venice with all the canals, gondolas, and gondoliers in Italian Renaissance and medieval costumes. They were there just last week with her high roller parents. Charles tells her it is California make believe like Disneyland. He points out a sign that advertises gondola rides on the Coronado Cays. But Alexandra isn't sure when the costumed gondoliers begin to stare at her.
She knows something very strange is going on when she takes a ride in a gondola and steps out into what is obviously Venice. But it is not the Venice of today but of hundreds of years ago. Passers by gawk at her. They are suspicious of her twenty-first century clothes and her cell phone. She is quickly arrested and put on trial for her life as a witch. How did Alexandra get into such a fix to begin with? What is going on? How does she escape? She had better figure it out soon or she may never emerge from the nightmarish Middle Ages and get back to her real life again.
If you liked Back to Venice you will enjoy other young adult thrillers by Dora Benley such as Mary's Gone, King Richard 1: A Novel, Julia: A Novel, Livia: A Novel, and Doom of Egypt.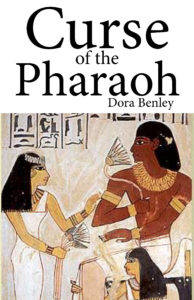 Lenore Rawlings has always been a loner in the new YA novel Curse of the Pharaoh. She has a pet cat, a dog, and even as snake which is appropriate considering that she has recently moved to Arizona.
Today she must drive her boyfriend and a teacher who is also an archaeologist to the new museum in town. The newest pharaoh from Egypt, his queen, and the court are on display, on loan from Egypt.
But little does Lenore realize that waiting for her at the museum is a boy named Seti, whom she can't even see because he is invisible. The ghost lingers by the museum exhibit waiting for his lost love with long red hair and green eyes, the very image of Lenore.
When he sees Lenore he thinks she is the reincarnation of his lover from thousands of years before and turns out the lights. Lenore feels a hand on her shoulder.
She has better figure out what to do fast or she might well end up kidnapped by a wraith from ancient times.
If you liked Curse of the Pharaoh, you will like other young adult thrillers and supernatural novels by Dora Benley including Curse of Egypt, Doom of Egypt, Book of the Dead, Julia: A Romance, and Livia: A Novel.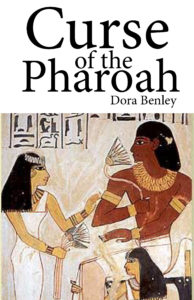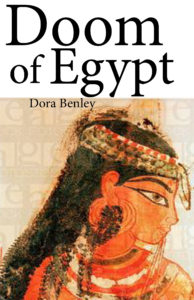 June is turning eighteen, but her father can't be there. He is excavating the Tomb of the Unknown Princess in Egypt. He sends her a card with a necklace of red jewels instead. When she looks into the mirror she thinks she sees eyes staring at her.
For her birthday her boyfriend, Andy, takes her to the museum to see artifacts from the excavation that her father has sent back from Egypt. She feels drawn to a room that is shut off, not yet open to the public. Andy can't stop her in time. The statue inside stares back at her. Her red eyes light up just as on the necklace. She sighs, "At last, my daughter, you've come home!" June had better figure out what is going on or she might become stone cold dead like the statue soon.
If you enjoyed Doom of Egypt you will like Dora Benley's other young adult thrillers and supernatural novels such as Curse of Egypt, Book of the Dead, Medea the Witch, Mary's Gone, and Cleopatra's Stone.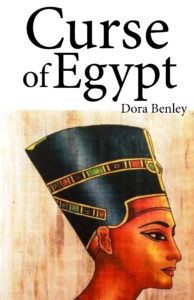 Sondra returns from a day out with her Dad in Charlottesville, Virginia where she lives with her mother and grandmother. Her dad asks her as always if she wants to come and live with him in Tucson. She says as usual that her mother and grandmother depend on her. They discuss why her parents got divorced. Her father confesses as usual that he doesn't know. Her mother just left one day without explanation and took Sondra with her.
Sondra rushes into the house to plant a bare root rose. Her mother and grandmother depend on her to do the yardwork, too. But while she is digging in the backyard she comes upon a strange golden object. Her next door neighbor, Stew Hoolihan, says it looks like a museum piece and they ought to call the police.
Immediately when she goes inside her mother says that she has called her father and agreed that Sondra should indeed live with him in Tucson. Sondra cannot figure out why. Does it have to do with the golden object found in the backyard? What do her mother and grandmother know about it? What are they concealing from her? Sondra had better find out. It soon becomes a matter of life and death. Ancient civilizations from long before she was born are helping to determine her fate.
If you liked Curse of Egypt you will enjoy other novels by Dora Benley such as Cleopatra's Stone, Caesar and Cleopatra: A Novel, Medea: the Witch, Minotaur, and Helen of Troy.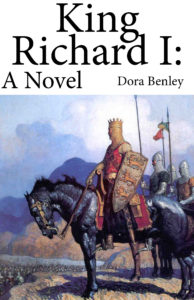 Elizabeth is a lady in waiting to Queen Eleanor of Aquitaine during the time of her confinement at Salisbury Castle. Queen Eleanor is a woman of remarkable powers, some say dark powers. Elizabeth learns to be a witch from her and takes up the lore of gathering herbs in the woods. The Queen then directs her to accompany her newly crowned son, King Richard I, to the Holy Land on the Third Crusade. She is to protect him against all evil, especially the scheming of Prince John, the new king's brother, who wants to crown himself in his stead.
Elizabeth sails to the Holy Land to take up battle with the infidel. But she finds herself in an unexpected quandary. Instead of King John the enemy kidnaps her and threatens to put her into a Middle Eastern harem. They threaten to take her away from the man, King Richard I, whom she is sworn to protect and defend. But in the oddest fashion of all, she finds herself falling in love with her captor, a Saracen. What is Elizabeth to do? She cannot forget her oath to the Queen. But she also cannot betray her own heart.
Page Turner Excellent book by Renee Marie:
Excellent book Very entertaining. The characters are well developed. You come to care for the characters and root for them. The way this book was written was enjoyable. The reader was left guessing trying to figure out who the bad guys were, once you thought you knew who was bad the author threw in a plot twist and everything you thought you knew was wrong. King Richard I, Queen Eleanor, the Witch of the White Rose, King Philip of France, Richards brother the future King John. Wonderful fictional book. Highly recommended! I will definitely look for other books written by this author! Absolutely a pleasure to read!
If you enjoyed Richard 1: A Novel you will like other young adult novels by Dora Benley including Livia: A Novel, Julia: A Romance, Julius Caesar : A Novel, Book of the Dead, Minotaur, and Helen of Troy.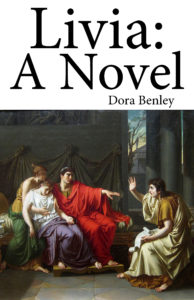 Livia: A Novel
Livia has just returned from her search to find her fiance, Octavius, heir of Julius Casesar, in the wake of Caesar's assassination. Octavius has fled Rome, and she was trying to save his life. She gets captured by pirates for all her trouble. When she finally catches up with her fiance she can no longer marry him. She learns that her own family, the Claudians, were behind Julius Caesar's assassination. She can be Octavius's mistress and nothing more. A proud girl, she spurns the thought and figures she must give him up for good.
Livia describes herself in her diary at this sad impasse:
"I can just imagine what I looked like: long coils of black hair curled in ringlets plas­tered all over my face, my neck, my bosom, and my shoulders — pasted on by dried salt and brine. A red silk dress clinging to my figure and slipping down over one shoulder a bit too far. Here and there still a jeweled earring or ankle bracelet poking through as a sad legacy from my other life. Looking all together like a prow ornament that had been fished up from the depths after some long ago shipwreck."
At this low point of her life Livia would be surprised to learn that she will somebody marry the man she loves and stay married to him for 52 years. It will become one of the most legendary matches in Roman history and one of the most historically important, too. Just how this comes about is the story of this piece of fiction: Livia: A Novel by Dora Benley, another one of this author's ancient Greek and Roman novels. If you liked this story about ancient Rome for young adults, this novel about Livia and Augustus, you will also like Book of the Dead, Helen of Troy, Cleopatra's Stone, Caesar and Cleopatra: A Novel, Julia: A Romance, Julius Caesar: A Novel, Medea the Witch, and Jason and Medea: A Novel.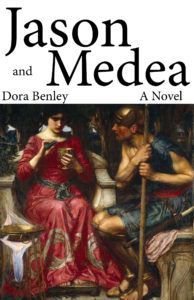 Jason and Medea: A Novel
Princess Medea lives in the dream-like Kingdom of Colchis along the Black Sea. It is the richest land in the world presided over by a gift from the gods, the Golden Fleece. Gold is as plentiful in this land as the sands on the beach.
She and her sister go to do the palace laundry one day and discover a strange ship from a foreign land coming ashore along the Phasis River. Her father holds a banquet, and Medea meets a golden-haired prince from far away. Jason claims he has come here to win the Golden Fleece to take home to Greece with him. He is willing to fight for the Colchians or to buy the Fleece outright.
Medea's father, King Aeetes, at once summons his guards and warriors and throws the foreigner and his sailors in jail. Medea knows she must save this foreign prince or no one else will. But in order to save him she must betray her father and her people. It is a hard choice for one so young to make. But for Medea there is no turning back.
Purchase a paperback copy of the novel for $12.95: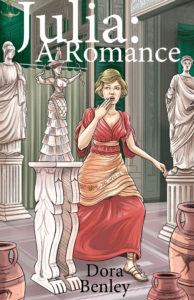 Julia: A Romance

Julia has every reason to wish that she had not been born the daughter of a Roman senator during the Roman Civil Wars of Marius and Sulla. Her father, Rufus, is trying to escape the proscriptions lists and save his life by betrothing his only daughter in marriage to Marcus Sisenna.
Marcus Sisenna is the right hand man of Lucius Cornelius Sulla Felix, one of the leading men of Rome of the day. Rufus needs his armies and the protection both Sulla and Sisenna can provide.
But Julia does not want to marry a man who has already had five wives and who is just marrying her for her father's money and estates. She does not want to be added to his collection of trophies. Julia wants personal happiness despite the time period into which she has been born.
Her father thinks only of keeping his wealth and estates together. Her divorced mother is interested only in her own lovers. To whom shall Julia turn for assistance? The answer may surprise you. For it is obviously just the opposite of what the desperate Julia might expect.
Purchase a paperback copy of the novel for $12.95: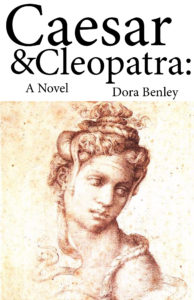 Caesar and Cleopatra: A Novel
This historical thriller by Dora Benley opens with Queen Cleopatra in exile roaming about the Sahara Desert with her serving women trying to survive. She is at war with her brother, King Ptolemy. Suddenly the famous Roman general, Julius Caesar, arrives in town and summons Cleopatra to Alexandria. The well educated, clever Cleopatra wants to make the best of a dangerous mission where she risks arrest and execution by her brother's guards. She wants to make sure that the Great Man from Rome, Julius Caesar, Conqueror of half the world, is on her side before her brother Ptolemy can grab his ear.
The seventeen year old teenager concocts a scheme that will awaken Caesar's sensibilities and appeal to him directly for his protection. She orders one of her servants to spirit her into Alexandria wrapped in a carpet. She is put down on the floor before Caesar.
"Very well, Queen Cleopatra, you can come out now," Caesar commands.
With a spring of the wrist, Caesar unrolls the carpets. She finds herself sitting on the floor gazing up into the blue-gray eyes of the Roman conqueror. Cleopatra imagined he would be a colossus with giant sinews and great stature like Hercules. But he is a tall man on the thinnish side with a balding head and goiter in late middle age with a perfectly proportioned bone structure and an aristocratic, firm mouth.
So begins the adventure of Caesar and Cleopatra.
Purchase a paperback copy of the novel for $12.95: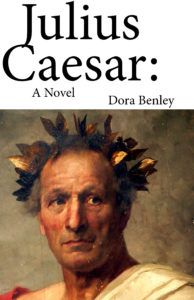 Julius Caesar: A Novel
In old age and in exile Servilia, mother of Marcus Brutus, awaited the suicide order from the Emperor Augustus, Caesar's heir, who put to death all of Julius Caesar's enemies. But instead he asked her to return to Rome and advise him as she once advised his predecessor, whose mistress she was. He wanted her to help raise the daughter of her old enemy Cleopatra, whom he brought back from Egypt after the death of the Serpent of the Nile: "Rome … that great maw of cites, the eater of men that ground and chewed up lives as if they were mere sandy grit between its teeth and then spat them out again. Through endless cycles of the seasons, revolutions, civil wars, and lives always the same. Did I have enough strength in this feeble body to war with her again? The child looked up at me. The answer was on my lips."
See what you think of this historical thriller from the point of view of Servilia, Julius Caesar's lifelong friend and mistress. She provides her own perspective on the colossus among men caught between the Republican faction of old Rome and those longing for empire.
Purchase a paperback edition for $12.95:
Save
Save
Save