New Category On Edward Ware Thrillers:
Edward Ware Thrillers Ancestors has appeared as a new category of novels on the Edward Ware Thrillers website at http://www.edwardwarethrillers.org. The thrillers in the new category concern themselves with the ancestors of Colonel Sir Edward Ware, the hero of the series. These novels include: Inn at the Crossroads, Caesar's Lost Legions, Pliny: A Thriller, and Carthage Must Be Destroyed.
In Carthage Must Be Destroyed Gaius Antonius is inspired by the leading senator and statesman, Marcus Porcius Cato. He turns his talent for drawing into a map making expedition to Carthage where he manages to ferret out a naval vessel as evidence that the Carthaginians are starting to rebuild their fleet in the aftermath of the Second Punic War. They have finished with the reparations that Rome imposed on them, and now have money to spare.
He and his mentor Cato return to the Roman Senate to get them to declare war when the map disappears. Gaius must chase the Carthaginian Princess Tanit across the Mediterranean and meet all sorts of unexpected hardships.
Will he make it in time, or will Princess Tanit and her relatives gain the upper hand against them? Find out in Carthage Must Be Destroyed by Dora Benley, an Edward Ware Thrillers novel.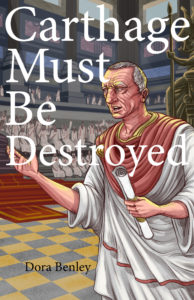 Comments Off

on New Category On Edward Ware Thrillers: