Why The Merkel Election Isn't Like Trump's:
In the US when you get Trump elected President the election means Isolationism. Americans want to pull back from being involved in lots of international affairs. They want to cut back on immigration and make sure that they themselves have jobs and money before they invite anybody else in. But in America you can't completely cut off immigration. The US is a country of immigrants. None of this is very deep or very serious or very old.
In America there is no core ethnic group like the Cherusci tribe from ancient Germany from whose ranks arose the traitor named Arminius who pretended to take on a Roman gloss when being educated at Caesar's expense back in Rome. Then when he was "helping" to guide the Roman troops towards the Elbe River he and his fellow Germans fell upon the trusting dupes and slaughtered them. Germanicus appeared in 14AD, five years later, to seek revenge on the German tribes. But the Romans never again pushed toward the Elbe River. The line was drawn at the Rhine instead. This is terribly significant for western civilization and makes the Battle of the Teutoburg Forest one of the most important battles in history.
Merkel visited the site of the battle in 2009. Germany issued a stamp to celebrate 2000 years. Can you believe it? I bought one of these myself and put it up on my website under the novel in question.
There is a Hermann the German (Arminius's German name) statue in Germany right now located on the A7 near Detmold. We unfortunately missed it. No one in Germany is talking about taking it down the way people here are trying to take down Robert E. Lee statues. No way! As has been pointed out the leader of the Alternative for Germany Party just used the word "volk". He invoked the "volk".
Merkel's election echoes through the centuries. Trump's does not.
Cheops Books LLC will publish a novel about the Battle of the Teutoburg Forest next year as part of the Edward Ware Thrillers at War Series.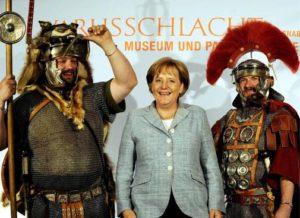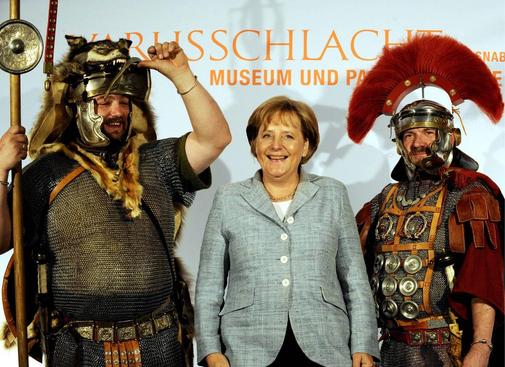 Leave a reply