Questions For May 18 Debate For Hitler's Chief Spy:
Two reporters, one pro Trump and one anti Trump, debate Hitler vs. Trump. Mr. Anderson is pro Trump and Mr. Foster is anti Trump. The debate will not take place on Facebook. It will take place on the Cheops Books LLC website at http://www.edwardwarethrillers.org at 2PM on Friday, May 18, one week from today. That is the day when Hitler's Chief Spy will be published on Amazon Kindle.
The questions for the debate are as follows:
1)How many treaties did Hitler tear up? How many did Trump tear up?
2)Did Trump act like a 1930s dictator when he tore up the Iran Nuclear Deal?
3)What was the worse deal, the Anglo-German Naval Treaty or the Iran Nuclear Deal?
4)Who was the more clever politician, Hitler or Trump?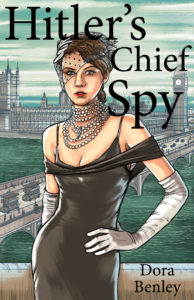 Comments Off

on Questions For May 18 Debate For Hitler's Chief Spy: