Did Edward Ware's Ancestor Fight In The Punic Wars?
Colonel Sir Edward Ware is known to have quite a pedigree, at least as long as the Queen's. He can trace his ancestry back to ancient Rome. His ancestor, Lucius Antonius, fought with Julius Caesar in the Alexandrian War. He was the grandfather of Caelius Antonius, mapmaker for the Roman legions who were massacred by ancient Germans at the Battle of the Teutoburg Forest.
And Caelius Antonius was the grandfather of Caius Antonius, an assistant of the famous Latin encyclopedia writer, Pliny the Elder, who helped the famous essayist escape an attack of the Germans at the time of Vesuvius and Pompeii.
But before that farther back in the history of Rome did Colonel Sir Edward Ware have a Roman progenitor who fought against Hannibal in the Punic Wars? Believe it or not it may be so. Recently archaeological evidence indicates it. An early collection of documents yet to be completely translated has been found in a key location.
A Gaius Antonius —- same clan name as Edward —- was appointed by the Roman who later became the great victor, Scipio Africanus, to make drawings of what he saw in Carthage in the way of siege machines and weapons when visiting on the pretext of being an ambassador of sorts to Carthage. And where were these documents found? At the Punic Wall in the modern day Spanish city of Cartegena in southern Spain just across the straits from Africa and Carthage and not far from modern day Gibraltar.
The Punic Wall was what used to protect the ancient Carthagenian city in Spain. What story does this wall have to tell? These letters may tell us. Cheops Books LLC has just acquired the rights to translate them and reveal to the world their long hidden tale.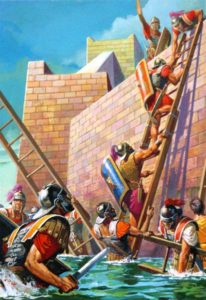 Leave a reply