Preparations For A Roman Wedding:
The bride wore a white woolen dress with a translucent flame yellow veil very much like a Vestal Virgin to show off her virginity. A young boy relative would light the torch of Ceres to guide the wedding procession to the house of the groom. The bride carried a copper coin to give to the Lares of her new neighborhood to show that she would soon be part of it. The bride was greeted by a torch bearer from the groom's household. Then the bride was carried over the threshhold by her attendants. She was greeted by the groom. They exchanged vows, "Where you are Gaius, I am Gaia." Frequently a sacrifice took place. The bride and groom held hands. That night the wedding would be consummated. The next day the groom would hold a banquet for his friends.
There was also a confarreatio Roman wedding ceremony reserved for the highest nobility about which we know very little except that it was somehow more religious. It was presided over by the Flamen Dialis and the Pontifex Maximus with ten witnesses present. The bride and groom shared a cake made of spelt.
In every Roman wedding a big deal was made of the date which had to be approved by augurs to make sure that it was lucky. It could determine how the whole marriage would turn out in the future.
Julia: A Romance is an upcoming historical romantic thriller by Dora Benley to be published by Cheops Books LLC. It incorporates a full-scale, lavish Roman wedding.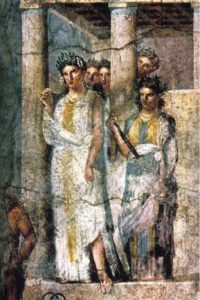 Leave a reply