Helga Sets Up A Kingdom In Denali:
Edward gets a note that purports to be from someone from long, long ago and faraway. He got it from a boat floating near the Mendenhall Glacier outside Juneau, the capital of Alaska. He and his wife, Dora, don't know what to make of it. It can't be Helga von Wessel, the vamp of all vamps. She got blown up ten years before at Los Alamos or at the Fat Man site where the first atomic bomb was tested.
At first they ignored it while they considered and tried to find a place to send a telegram to Winston Churchill back in London. But the secret, mysterious notes kept on following them wherever they went and at whatever restaurant they appeared at and at whatever hotel they arrived at. There was always a waiter approaching them with a new note. There was always a note sticking in their door with some alluring reference to the past. If it was not Helga — and how could it be? — it must be somebody trying to make them think it was Helga.
They sign up for a land extension to the cruise. That way they could go ashore in Alaska to meet with this troublemaker who was dealing with the Russians and who was the cause of their visit to Alaska to begin with. When they were visiting the most Russian city in Alaska called Sitka and were stopping by a Russian Orthodox Church at the pier, they got a note that told them where to go once ashore.
It was hard to get there. Where they could not go by bus they went by dog sled. They entered the preserve of Denali National Park and went beyond where the roads could take you. It did not surprise Edward that they were arriving in a Siberian Ice Palace. It was a room where everything was chiseled of ice. It looked like scintillating diamonds.
Somebody must be playing with optical illusions. The vamp who stood there before him with hardly a hair unchanged from the last time he saw her, resembled Helga von Wessel down to the last detail. When she opened her voice to speak in that sultry growl that was so reminiscent of her, Edward was at a loss how to explain it.
"I knew you would come, Edward. I could feel it in the bones you tried to destroy. But now Khrushchev has you where he wants you. You won't leave this place until you give me exactly what he wants most."
Edward glanced behind them. The gates were locked.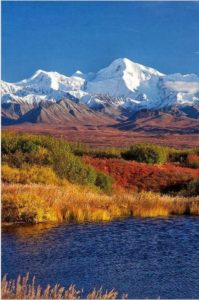 Leave a reply