Escape From The Prison At The Ice Palace:
Edward reached the point of no return very soon. But he could not catch the monster that Helga had nicknamed "Igor" soon enough. He was gone across the snow banks and fields with Edward's wife. Edward could hear her screams in the distance.
Another dog team stood ready beside the one that had just took off with his wife and Igor. Edward had no choice but to use it. No other kind of transportation would work in this environment. Not that he had any experience steering a dog team. He could only hope that the team would steer itself and would instinctively sense where to go —- to follow the other team.
"Mush!" Edward shouted as the team started across the snow. He knew they must be headed in generally the right direction. He could still hear the team ahead of them. He otherwise would not be able to. He could also hear his wife's screams undiminished in volume.
They were now far enough away from their starting point that when Edward turned around he could no longer make out the Ice Palace in the surrounding banks of snow that made the whole area sparkling white and hard for the eyes to take in. He sensed that they were reaching their mysterious destination when the dogs started to slow down themselves without any sort of order. Ahead he could barely make out the man called Igor, or the monster, carrying his wife from the sled to a portal that appeared to lead underground. Soon they were no longer visible.
Edward managed somehow to bring his dog team to a stop right at the same location where the other dog team was waiting. He had no choice but to continue following the disappearing monster underground.
His ears were immediately assaulted by sounds of moaning and screaming. He could hardly believe it. But inside the cages lining the walls were human beings. He kept to the shadows and tried not to be seen as he attempted to find Igor and his wife. But he could not help but notice that the people along the walls were crying out in different languages. Who were these? The dispossessed? Enemies of the Russian state? Was this far outpost in Alaska another kind of Russian gulag where the Dictator sent prisoners and enemies of the state?
Sure enough up ahead he could see that was where his wife was headed. Igor was shoving her into a cage all her own. But he was beginning to wonder what was really going on here when he also caught a glimpse of the man Helga termed "Dr. Frankenstein" with the bifocal glasses. He was stirring up different concoctions in beakers and test tubes. Was he doing experiments that had to do with these people? Was he Dr. Mengala who had escaped here after the fall of the Third Reich? All he knew was that he had to get out of here quick —- with Dora.
He waited until the other men had disappeared. He headed directly towards Dora's cage. He trusted to his own instincts about opening it. He did it readily enough from the outside.
Dora gasped when she saw him. He put his finger to his lips to remind her not to say anything. He slipped his hand around hers. He led her back through the hall lined with prisoners in cages. He kept his eyes focused on the ground. Imitating him, Dora did so likewise.
They climbed the stairs out of the place and reached the dogs. Edward helped his wife into the sled. They were soon bounding across the white field pulled by dogs. He could only hope that no one was following them.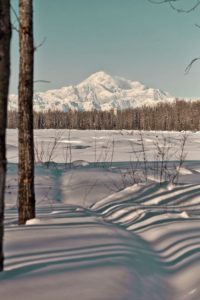 Leave a reply