Hitler's Agent: Audio Book Coming Soon
So far Cheops Books LLC has produced three audiobooks available to buy on Audible: Captive at the Berghof: Part 1, Captive at the Berghof: Part 2, and Dark Horse. The next audio book to be released will be called Hitler's Agent. For a limited time if you sign up for the Edward Ware Thrillers Newsletter you will get an audiobook for free.
The villainess, Helga von Wessel, Hitler's chief spy, struts boldly across the cover of this book with Europe at her back and all sorts of ambitious notions in her head. As far as she is concerned it isn't Hitler's Reich. It is Helga's Reich. She will wrap Edward around her little finger to prove it.
Dora isn't sure she is cut out for this life of intrigue against Hitler and his chiefest spy, Helga von Wessel, who turns out to be Edward's mistress and the mother of his bastard son, Leopold. After all, as the only daughter of a Robber Baron from Pittsburgh, she is used to having things her own way. The conflict heats up between Dora and her husband, Colonel Sir Edward Ware, and they are headed for a splashy divorce that makes headlines around the world just at the moment when the globe is poised on the brink of war. Hitler's Agent is coming soon from Cheops Books, LLC.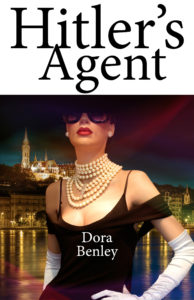 Leave a reply