New Supplement Added to Unlocking Trinity:
In Unlocking Trinity, the last volume in the Edward Ware Thrillers, the Ware's little girl has been kidnapped by Hitler and forced to live with him at the Berghof. But when Hitler commits suicide in his Berlin Bunker on April 30, 1945, what happens to the child who has been indoctrinated as a Nazi, who has forgotten that English is her native language?
Her biological father, General Lord Edward Ware, must defy Eisenhower's order to leave Berlin to the Russians. He must get to her before Stalin's henchwoman does. It becomes a race to Trinity in the wilds of New Mexico in the birth trauma of the Cold War.
A supplement called Ice Palace has been added to reveal what Edward did in retirement after World War 2. General Lord Edward Ware at the end of World War 2 retired from His Majesty's Armed Forces with the title of Lord of Ruweisat Ridge and an appointment to the House of Lords. He helped the British win the Battle of El Alamein in 1942. Therefore he has been appointed to a hereditary position in the House of Lords. When he is no longer meeting with Churchill to plan battles, Lord Edward Ware's life is now consumed with social events and flashy ceremonial responsibilities. For one thing he has managed to have the title of Black Rod of the House of Lords forced upon him by his peers.
He gets involved in a plot in Alaska where he hears that the Russians are maneuvering, the new enemies at the beginning of the Cold War. He gets sent there by Churchill, Prime Minister again in the 1950's. And he meets an old enemy that he thought was dead.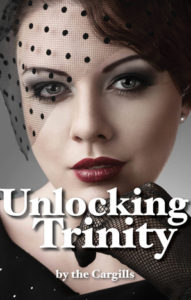 Comments Off

on New Supplement Added To Unlocking Trinity