Merkel and May Should Listen to Trump
Angela Merkel and Mrs. May both have recently won re-election with very narrow margins that have required coalition forming. Last autumn Donald Trump was elected President by a much greater margin. The two ladies should listen to him in his message about immigration.
In Sunday's German election for chancellor, Angela Merkel "won" but it will be her last term. Her center-right party, the Christian Democrats (CDU) (along with their sister party in Bavaria), had the worst showing since 1949, winning only 33% of the vote. The reason: Merkel's decision in 2015 to open Germany's borders wide to nearly a million refugees from Syria and other parts of the Middle East. Approximately one million Germans who had voted for the CDU in the last election decided to vote for the new anti-immigration, right-wing party, the Altenative for Germany (AfD), which received 13% of the vote, enough to surpass the 5% threshold for representation in the German Bundestag.
Sunday also saw Donald Trump announce his administration's new travel restrictions, which will replace the Trump Administration's original travel ban, as of October 18, 2017. Oral arguments on the original travel ban executive order are due to be heard by the United States Supreme Court on October 10, 2017.
Merkel's vision of a super-cosmopolitan Europe that can easily handle the assimilation of millions of refugees from other parts of the world has been put on permanent hold. Meanwhile, Trump's vision of the world – as he recently confirmed by his address to the UN General Assembly – as a collection of nation states who look out for their own interests – including by placing restrictions immigration – is on the rise.
The reason is obvious. Merkel's vision is simply unrealistic. Neither Germany nor Europe's other nation states, can digest unlimited immigration from countries that do not share the Western culture and values of Europe. Trump's vision, on the other hand, allows the nation states of Europe and the rest of the world to maintain their singular identity and thereby thrive.
England, Germany, and America are all settings in the Edward Ware Thrillers at War novels published by Cheops Books LLC. Hitler's Agent, book six of the series, will be published on October 15.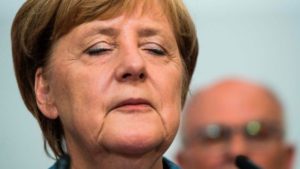 Save
Leave a reply