Gaius Loses His Maps After The Banquet:
Lavinia waved at Gaius from the docks at Ostia as soon as their ship started to disembark. She raced up to meet him and threw her arms around his neck. He hugged her to him. They had not seen each other for several weeks.
"I knew you would return!" she enthused, jumping up and down. "I have been waiting for you every single day." She kissed him on the cheek.
Gaius felt obliged to introduce Lavinia to Tanit who stood there calmly taking in the scene. "This is one of Cato's hostages. There are one hundred of them all told. They are to spend the next year at Cato's house while the Carthaginians make peace with their neighbors."
"Hello, I am Tanit, only daughter of Hamilcar II," Lavinia introduced herself.
Lavinia paused to take in the foreign princess in her midst. She examined her from head to toe. Gaius could tell she was not pleased.
"Indeed, how unusual!" Lavina exclaimed.
"I feel that I am an emissary for Carthage to tell Rome about our civilization," Tanit continued.
"Well, you are welcome to our banquet," Lavinia invited her and her other friends to Cato's house in the country on his estate outside Rome.
Gaius could tell that Lavinia was only being polite. She did not like Tanit. Tanit was about her age but looked far more elegant in her attire. Gaius wished that he could assure Lavinia that proper Roman women did not have to ape foreign princesses and royalty. Rome had done away with that sort of thing ages ago. They did not have kings. They had consuls and senators instead.
They embarked in horse drawn carriages headed for Cato's country villa in the Etruscan hills. Gaius figured it must be his imagination to see the Etruscan girl eyeing him from behind a tree as they turned up the road into the woods. He seemed to see her and many of her other Etruscan friends and confederates.
Cato's servants had the welcoming banquet ready. Several senators had been invited for today's welcoming reception. The hostages came forward one by one and introduced themselves, giving their name and family and said a little bit about themselves. Tanit went last. She held her audience spellbound for many minutes. The Senators started to clap.
Cato then called on Gaius to show the senators the maps he had drawn of the city and all its many buildings and harbor works.
Lavinia frowned as she sat beside Gaius at the banquet. It was as if she could somehow sense the impression the Carthaginian princess had made on her betrothed as well as the other men in the room other than say Cato himself who was indifferent to such feminine wiles. Lavinia and Gaius were engaged to be married at the first opportunity. Lavinia felt responsible for him as well as possessive.
Wine and foods of various sorts flowed freely until a very late hour. Gaius finally said good-night to everyone including his fiancee and retired to the room that had become his bedchamber at Cato's estate. He feel asleep quickly, having been thoroughly exhausted by the trip and then the big banquet. He woke only partially in the middle of the night thinking he heard a sound. He dismissed it as a dream. But when he woke up the next morning he found his leather waist pack open on top of his dresser. He reached inside and found that the maps he had drawn in Carthage were gone —- mysteriously vanished into morning's first light.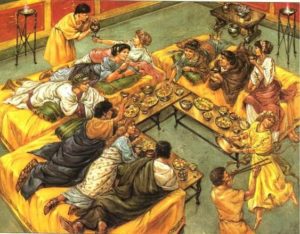 Leave a reply