Edward Flees Alaska And Returns To Britain:
Edward drove the team far away from the underground prison in Denali. He even was careful not to stop at the Ice Palace where he knew Helga von Wessel would still be waiting for him. He gave it a wide berth and kept on going towards the entrance to the park. Edward planned on visiting the same location later today anyway. It was the rendezvous point where he was supposed to meet Winston Churchill's messenger.
Everyday when Edward and Dora were in the Denali area looking for clues about the Russians and Churchill had no idea what they would find. Eisenhower didn't either. Churchill was supposed to send news briefings for Edward knowing there was no way he could keep abreast of current events locked in the wilderness without any sort of communication devices. Likewise Edward was supposed to use the opportunity to send news of what he was discovering or not discovering back to Churchill and asking for supplies or anything else he might need.
Instead of sending news or asking for supplies this time, Edward arrived just minutes before the appointed messenger did ready to bail out. As soon as the messenger appeared, he and Dora climbed aboard the messenger's sled. Edward let the dog team go. He knew they would return to their place of origin.
"We're going back," Edward told the man.
He nodded.
"You would hardly believe what is going on back there," Edward confessed to the messenger as they pulled away.
They were soon back in port along the Alaska Coast heading south. Edward attempted to send messages to Churchill whenever they docked. They finally reached Los Angeles and came ashore in Long Beach where Dora's father came to import his rubber to make his tires for Benley Tire and Rubber. He immediately sent a cable to Churchill:
Kruschev running prison camp in Denali STOP There is even a runway STOP Goons and everything STOP Helga is there in force STOP
Edward and Dora took a train back across the country and hopped the Queen Mary back to Britain from New York. He finally arrived at the Savoy for his lunch appointment with the Prime Minister.
Edward could hardly believe his eyes when he entered the dining room. There in a private nook in the corner, Churchill's favorite, sat the PM and Helga von Wessel. She looked up and smiled, "Hello, Edward, fancy meeting you here! All that way from Alaska, and I got here before you did."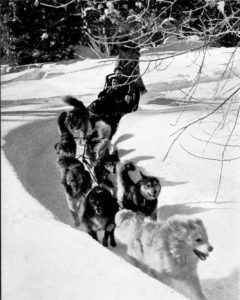 Leave a reply