Cheops Books LLC Betrayed By Russians:
Cheops Books LLC is about to publish a novel in the Edward Ware Thriller Series called Salisbury Affair. It is about Dora and Edward's wedding at Salisbury Cathedral. We are having a Facebook Party on May 4, and the debate is going to be about this subject.
We here at Cheops Books LLC feel betrayed that the Russians attacked Salisbury. It is as if they attacked our novel. That is a place that the author, Dora Benley, has incorporated into the world of the Edward Ware Thrillers at War novels. It is the town closest to Edward's estate, Ware Hall, the ancestral home of his family that we find out later goes back to Roman times.
Salisbury Cathedral is where Dora and Edward were married. Ware Hall is practically burned to the ground in Captive at the Berghof by Helga and Hitler in September of 1940 during the Blitz, killing Edward's mother. That is enough of a profanation.
But this chemical weapon of the Russians is far worse. After World War 2, the Wares renovate Ware Hall with Dora's money. Leopold later completes the job as he reveals in Dark 3: Special Edition. But you cannot renovate what is contaminated by chemical weapons. It is like radiation. It might be there for a long time and you wouldn't want to visit again. It turns the town of Salisbury, which our tour guide in 2012 called "God's own country" along with all of Wiltshire, into Love Canal — or even Chernobyl.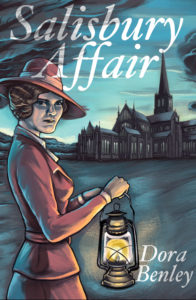 Comments Off

on Cheops Books LLC Betrayed By Russians