The B-Mobile, The New Cheops Books, LLC Van:
On Friday, October 13, the spookiest day of the year, Cheops Books LLC acquired a new van, the B-Mobile, to use on all its ramblings, wanderings, and official business. It replaces the previous Bearmobile that lasted more than eleven years since July of 2006 until this very October.
The previous mobile took Cheops Books LLC and its authors on various expeditions to the shores of Oregon at Brookings, Oregon, the Redwood Coast of California, the Wine Country, and Yosemite. It drove our team to southeast Arizona to visit the town too tough to die, Tombstone, Arizona. It also took us on both our ramblings to Santa Fe, New Mexico where part of the Edward Ware Thrillers at War Series is set. Remember the Manhattan Project at nearby Los Alamos? The site of the first atomic bomb explosion was not faraway, and the previous Bearmobile drove us right past it with lots of photo opportunities.
Perhaps most notably the previous Bearmobile took our party of editors, authors, and illustrators to the Brooklyn Cruise Terminal to board the Queen Mary 2. And the minivan did it not just once, but twice, last in 2015 just two years ago. That was our route to Europe to research the Edward Ware Thrillers at War especially in Germany and England.
It enabled us to stand in the stands where Hitler addressed his adoring crowds in Nuremberg and took us up into the Alps Mountains to see the site of Hitler's Berghof, which was important for the novel Captive at the Berghof. In England it enabled us to visit Salisbury Cathedral in the south of England that gave its name to the Edward Ware Thrillers novel, Salisbury Plot by Dora Benley, soon to be published in a brand new edition. And it enabled us one hundred years after the event to sail past the spot of the sinking of the Lusitania off the coast of Ireland, the setting for Key to Lawrence: Special Edition.
Now the new B-Mobile will be the one to guide us through the wilderness and down the interstates to whatever destination is next to appear as the subject of a thriller novel published by us.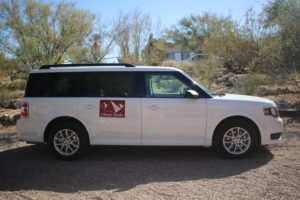 Save
Comments Off

on The B-Mobile, The New Cheops Books Van