Reviews For Hitler's Chief Spy On Goodreads:
Hitler's Chief Spy by Dora Benley has recently been published by Cheops Books LLC. Several reviews have appeared on Goodreads:
Tobyann Aparisi listed this following review on Goodreads: I won this book for an honest review on Goodreads. This is a very entertaining well thought out thought-provoking read! A period story that has a bit of truth to it. The characters are very well done and the backdrop to the story is well defined. The story itself is very engaging and page-turning, can't wait to see what happens next type of flow. I highly recommend this story to anyone that likes a historical type of reading with very interesting and fresh characters.
Holly Lutmer has also added this review on Goodreads. "I enjoyed this book, it was eventful and interesting! Parts of the book were a bit confusing and a tad unrealistic, but it's a novel right? The only problem was that some of the characters did not translate onto my kindle which also could have contributed to the confusing part. Overall I think it was a pretty good book."
Lori added the review on Goodreads: "I received this book from a Goodreads giveaway. The characters were well developed."
Mary also wrote on Goodreads: "Great storyline and read."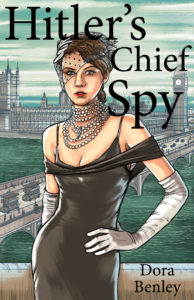 Comments Off

on Reviews On Hitler's Chief Spy On Goodreads: