Ancient Roman Saturnalia in Dora Benley Novels:
The Saturnalia was the ancient Roman Christmas and New Year's season. It was held in honor of the god Saturn from December 17 to December 23 as marked by the Julian calendar. He was the god of seed and sowing, and it was now the end of that season with the approach of the winter solstice on December 25 of the Julian calendar.
It might not exactly be Christmas, but it sounded like it. Romans put up trees in their houses and might even have decorated them. They exchanged gifts. Charity to the poor was emphasized as well as role reversals such as slaves sitting in the master's chair and visa versa. It was a time of charity and good will to men. The Forum in Rome must have been very busy with all the shopping that went on.
The festival called the Saturnalia does not take place in the historical romantic thriller Julia: A Romance. That novel takes place in the summer time. By December Julia would be a bride of about six months in her new household. But the festival figures in the historical romantic thriller by Dora Benley entitled Cleopatra's Stone. It takes place right before the hero of the novel, Lucius Antonius, flees with his bride to Roman Britain where he sets up the dynasty that will eventually lead to Edward Ware, the hero of the Edward Ware Thriller Series.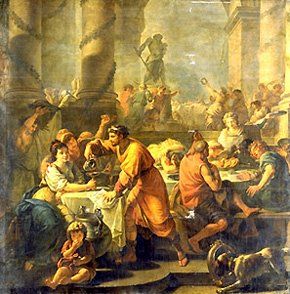 Comments Off

on Ancient Roman Saturnalia In Dora Benley Novels