Review For Armistice Plot:
Armistice Plot by Dora Benley, just published by Cheops Books LLC on October 1, got an interesting review on Amazon where you can buy the Kindle version.
Here is the review by Anne:
Armistice Plot by Dora Benley is an interesting start to what I hope is a series. This story starts at archaeological site at Carchemish in 1914. There is where Edward Ware's father and Leonard Woolley close down their dig in the face of war which is a reminder of how war affects everyday life. There are secret maps which must be protect a vamp who is involved usually on the wrong side as you travel and see Europe during the Great War. Said vamp is left supposedly fleeing to see an Austrian corporal. Meanwhile Edward helps T. E. Lawrence during the war and faces death against the Kaiser and Hitler. This historical thriller brings in some interesting elements of the early 20th century. It also has a little romance added to the adventure and history. It kept my attention.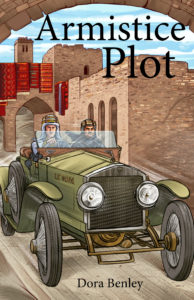 Comments Off

on Review For Armistice Plot: