Last Days For Rose Red Promotion:
Hurry! If you have not already downloaded your free copy of Rose Red by Dora Benley, her latest young adult thriller, do so today before it is gone. You have only until Friday of this week to do so on Amazon Kindle.
On Diana's first day of school at Tucson High a stranger is staring at her. He has a wilted rose in his pocket. She asks who he is. At first nobody will tell her. Then they shove an old newspaper story at her about how a girl from the high school was found murdered with a wilted rose vine around her neck, and that young man was arrested for the murder. But he got off on a technicality and got away with murder.
Diana shivers when she finds one of his wilted roses on her locker next. What should she do? If she doesn't figure it out, she may be the next victim.
Rose Red is brought to you by Edward Ware Thrillers YA, an imprint of Cheops Books, LLC. If you liked Rose Red you will enjoy other young adult thriller novels by Dora Benley such as Mary's Gone, Latin Lessons, Murder on Spirit Island, Murder in Jasper, and Silver Wolf Moon. You might even enjoy the Dora Benley's latest novel in the Edward Ware Thrillers at War Series, the Salisbury Affair.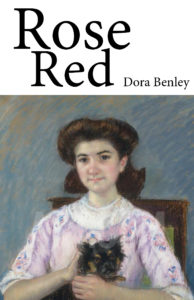 Comments Off

on Last Days For Rose Red Promotion