Cheops Books LLC Took Shore Excursion To Salisbury:
When Cheops Books LLC took the shore excursion in July of 2012 to Salisbury Cathedral and Stonehenge, the tour guide told us when we were coming into town in Salisbury about his memories of World War 2 as a little boy. He remembered being given candy by American and Canadian GI's waiting to be shipped out for operations such as D-Day. He showed us where all the units were housed along the roads as we got closer and closer to Salisbury.
The tour guide did not mention chemical weapons factories outside of Salisbury, but what we suspect is that they must be north of town since south of town is the New Forest which we drove through and which is a national park. But we are sure they are there as you say.
The area around Salisbury has been from time immemorial a place to see the coming and going of armies in Britain from the time of the Romans and Julius Caesar to the time of William the Conqueror and onward to the present time. In fact the whole south coast of England along the Channel from Southampton to Dover is important from the strategic point of view. Dover Castle was actually used during WW2. The evacuation from Dunkirk was directed from the castle.
That is one of the reasons Cheops Books LLC chose Salisbury as the town nearest Ware Hall, home of Colonel Sir Edward Ware, hero of the Edward Ware Thrillers At War Series. It is a military setting. He is in the military. All of his ancestors back to Roman times have been in the military, too.
Still that is no justification for the Russians to use chemical weapons there especially against civilians. Cheops Books LLC remembers that the town also had a medieval atmosphere. Salisbury Cathedral itself had such a medieval feel about it that it might as well have had knights in shining armor at the doors. It certainly had a lot of stained glass windows. All around town are bronze age burial mounds. What is now to happen to all of this?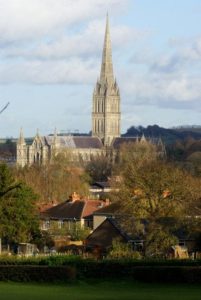 Comments Off

on Cheops Books LLC Took Shore Excursion To Salisbury: