Yellowstone Article Like Old Faithful Plot:
Today there is an article on weather.com about Yellowstone the Supervolcano. It is called Yellowstone Caldera: Next Eruption Could Be A Major Disaster. The article suggests that the park and scientists should start monkeying around with the volcano which is against park service philosophy. In the soon to be published historical thriller novel Old Faithful Plot by Dora Benley, Hitler has the von Wessels monkeying around with Old Faithful as part of a plot. That is what this article reminds me of.
Here are some lines from the article. I wonder if sensational articles like this have increased tourism to the park:
The ash spewed by such an explosion could create a global "volcanic winter" by blanketing parts of continents with soot.
To help prevent such a catastrophic event, the researchers suggested drilling into the peak to extract heat and pump water through it. The water would circulate and reach more than 600 degrees Fahrenheit before coming back out, which could slowly remove heat from the peak and prevent it from erupting.
"It has been suggested that the hydrothermal circulation at Yellowstone may cool the underlying magma and may lead to decreased long-term volcanic hazards," wrote the scientists.
More research needs to be done to figure out how to best protect the planet from a supervolcano eruption, the researchers also said.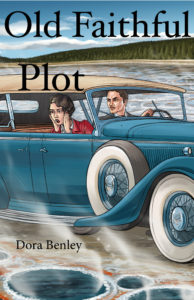 Leave a reply