How To End Putin's Dictatorship:
Frankly I think that is shocking. I would not call Putin and congratulate him on anything right about now. You cannot allow the use of chemical weapons in modern day societies especially in time of peace. That is an absolute all by itself. It has to be dealt with, not ignored. It is the most paranoid piece of news I have heard in a long, long time. In a way it is more fearful than 9/11. It is worse than terrorism. The contamination is invisible and you cannot know how to protect yourself. It can work when bombs are not there at all, killing people silently and even months or years later like nuclear radiation.
There are two ways to end the Putin dictatorship — the fast way and the slow way. You are talking about the slow way, the development of the middle class. The fast way would be to topple the dictator. Of course I don't see the US taking that on either. They always have to take half measures.
Gary thinks it sounds like a novel, but wouldn't it be weird if a game or a trick was going on. The British kick out the Russians. They break off diplomatic relations. May cancels Trump's trip to Britain. At the same time Trump invites Putin to Washington. If I were the Russians I would be suspicious of a trick.
Russia is a subject of the upcoming Cheops Books LLC thriller, Unlocking Trinity.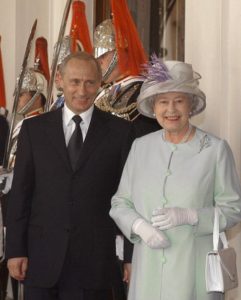 Comments Off

on How To End Putin's Dictatorship