Wall Street Swastika:
On the morning of October 24, 1929 Dora wakes up in her suite in the Waldorf Astoria in New York City. Her lover, Colonel Sir Edward Ware, wakes up beside her. Today is his last day in New York City and in America itself. They are supposed to wander down Fifth Avenue and stop in a jewelry store or two to buy her a memento of his visit, probably the last this year and this decade. Dora, Mrs. Byrne, sighs to think she must return to Pittsburgh where her Robber Baron father, President of Benley Tire and Rubber, holes up and where her husband in name only, Michael Byrne, works for her father. If only she could be returning with Edward in tow as her new husband! But that would require a divorce and scandal which Edward's career cannot sustain.
Edward reminds her that they have to hurry. They are meeting Winston Churchill, the MP, and his partner in the Lawrence map intrigue for lunch on Wall Street. Winston is meeting with his Jewish friend and financier in America. But when they get there something out of the ordinary is obviously afoot. People are screaming down Wall Street, usually the sober financial capital of the US. Others are standing at windows climbing out on windowsills looking as if they are ready to jump.
They hurry into the restaurant only to find it deserted. They get a call from Winston. He asks him to meet him in his financial advisor's office. He's losing his shirt, everything he has invested in stocks in America.
She and Edward appear only to see the unbelievable. Stocks are indeed crashing. Dora's father calls and proclaims how smart he was never to sell stock in his company. Winston tries to keep up everybody's spirits as he goes down to financial ruin.
"No one has even thought of the worst effect of all this economic loss all around us. In Germany Hitler has risen to the head of the National Socialist Party. But for the past few years of prosperity he has been stopped there. He hasn't won a general election yet. But now I am afraid this crash will unleash the powers of darkness."
Edward pushed aside his own losses from what was left of his own father's Adolphus Motor's fortune. He realizes the real gravity of the day. Dora wonders what fate will have in store for them in the next few years.
Read Wall Street Swastika soon to be published by Cheops Books LLC as an Edward Ware Thrillers at War book.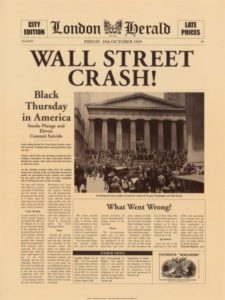 Leave a reply