Captive at the Berghof: Part 1 in German:
Gefangen auf dem Berghof: Teil 1, or Captive at the Berghof: Part 1 by Dora Benley, will be published on December 15 on Amazon Kindle. It is the first German version of a novel that Cheops Books LLC has ever published.
Adolf Hitler threatens Colonel Sir Edward Ware and Dora, Lady Ware, that if they do not hand over the Lawrence maps, key to world domination, he will kidnap their daughter. The late Lawrence of Arabia has drawn these maps for the British military to prepare for the next European War. Hitler guesses this, and wants to tip the scales in favor of Germany instead of England. Churchill, Edward's best friend, and the Colonel are running their own foreign policy under the noses of first Baldwin and then Neville Chamberlain and the British government. Tension does nothing but build through Nazi rallies, through the Munich Accords in 1938, but does not stop with the first shots fired after the Polish Invasion in 1939. Finally the war itself will be won or lost depending upon what Edward and Dora do next. Will it be their country or their daughter? They must choose.
Captive at the Berghof: Part 1 is book three of the Edward Ware Thrillers at War Series
Hitler hat über die geheimen Untergrundaktivitäten des Obersts Sir Edward Ware erfahren und kämpft mit harten Bandagen. Er entführt Thomasina, Edwards Tochter und will das Kind nur zurückgeben, wenn ihm Edward und seine Frau Dora den Schlüssel zur Weltherrschaft überlassen – die Lawrence-Karten. Sie müssen schnell etwas unternehmen, bevor Thomasina wirklich zu Hitlers Tochter wird.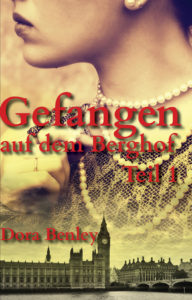 Comments Off

on Captive at the Berghof: Part 1 in German