TNT Fireworks Next Door To Cheops Books LLC:
Not only does Cheops Books LLC feel threatened when on the road again by none other than Disney, more close to home right at New Year's it feels threatened by fireworks. We were just at the grocery store just down the hill called Safeway. Next to the checkout counter there are piles and piles of explosives. They are labeled TNT explosives and fireworks. There are signs that say NO SMOKING, and we have seen people vaping in the store. The management is ambiguous about that. The man in line in front of us at the checkout yesterday was buying fireworks. We were going to ask him if he was really going to use them considering how dangerous they were.
On New Year's Eve the fireworks frequently land in our backyard. You can see them coming. You feel as if you are under attack by some unknown, dangerous enemy. And this in the very building that Cheops Books LLC calls home.
We hope the fireworks don't ignite an explosion one of these days. We hope it does not burn our books. This past autumn we published the Dark Series: Dark 1, Dark 2, and Dark 3: Special Edition as well as Dark: A Trilogy. We are planning next year to publish Paris Peace Plot, Armistice Plot, Hitler's Chief Spy, and Old Faithful Plot among other titles. We can only cross our fingers on New Year's Eve and hope that they do not go up in smoke first.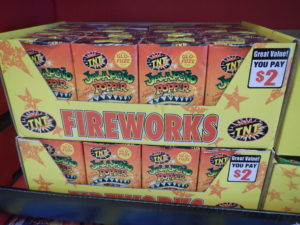 Leave a reply