Dora, Edward, and Churchill Come Up With Crazy Plot:
How about this one for an Edward Ware Thrillers at War plot? Edward and Dora have to leave England suddenly upon word from Churchill. They are being followed by Hitler's top spies such as the von Wessels. They lay low over the weekend in Rotterdam. They don't hear anything so they come back to England only to discover that the threat is even bigger than before. They continue on their way and come ashore in Valencia, Spain.
They wait for their contact at the aquarium to hand over the Lawrence maps, key to world domination. But they find him dead floating on top of the shark tank instead.
Never to be deterred they head on to Giardini Naxos in Sicily. It sounds out of the way. They head for the slopes of Mount Etna where there had recently been an eruption. They head into the Godfather's villa to hand over the maps on a tip only to have gunfire start outside.
They escape back to the boat and head for Venice. There only the island of Burano where they make lace they find their contact for handing over the maps. They head away thinking they had go ack to Britain. But no sooner do they hand the Lawrence maps over than their contact gets shot.
They plan to meet their contact in Sibenik in Croatia. They figure no one among Hitler's spies will think to venture here. They are standing by a column in the ruins of the Diocletian Palace when they see the von Wessels themselves.
They make a journey to Dubrovnik and head south to Cavtat. On a palm-lined walkway they stop thinking they see their contact at a table on the sidewalk. But when they approach it is Helga von Wessel herself in her sun hat wearing sunglasses.
On the island of Sardinia they leave the town of Cagliari to head for the archaeological ruins of Nora, the ancient Carthaginian city. The archaeologist in charge of the dig is supposed to be their contact. But when they see him, he waves them away with a glance at the von Wessels. They have heard of Nora, too.
Finally they stop on Gibraltar on their way out of the Mediterranean heading back to Britain. They went their way up the rock. Instead of running into their contact, Dora finds some Gibraltar apes. She might as well hand the Lawrence maps to the apes, knowing the von Wessels could not outwit a monkey.
But when she tries the ape says, "Thank you!" She realizes that it is their contact in disguise. They have finally succeeded. They can head back to Britain to see Churchill and say mission accomplished.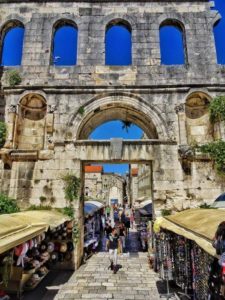 Comments Off

on Dora, Edward, and Churchill Come Up With Crazy Plot: