Key to 1935: The Salisbury Plot
Mrs. Michael Byrne, the former Dora Benley, is returning from Cuba on the Morro Castle when she encounters a young man she has never seen before in the dining room. He demands that she hand over the Lawrence maps, key to world domination. He obviously works for the Nazis. She pretends to know nothing about it, though she will have to tell her lover, Colonel Sir Edward Ware, who is up to his military boots in intrigue over the maps. He is a spy for Winston Churchill, the backbencher, and this young man whoever he is, seems to know it.
She escapes from the dining room. Things escalate later that evening. She catches the mystery man setting fire to the ladies writing room. The whole ship soon catches fire, and she finds herself a widow. She quickly escapes to England to join Edward Ware.
But weeks later during her wedding ceremony at Salisbury Cathedral in the south of England the mystery and intrigue deepen even more. Up on the balcony a stranger appears chanting, screaming, and howling at the guests below assembled at the church, threatening them. Edward shoots at the unknown rogue, but to no avail.
What on earth is going on? How many people does Hitler have working for him? Has he summoned the medieval ghosts of the cathedral, too, the spooks and demons from ages past? As Dora races out of the church she feels a chill so deep it must be centuries old.
On May 1, 2017 Cheops Books LLC will publish Key to 1935: The Salisbury Plot. The Kindle edition on Amazon will sell for $8.95. The paperback ediiton on lulu.com will sell for $12.95. There will be a Goodreads giveaway starting soon. You will be able to enter the contest to win one of seventeen copies to be distributed on May 1.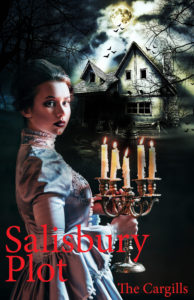 Leave a reply