Moderator: Time for the first question: Did America do anything in World War 1, which ended a hundred years ago on November 11, 1918, or was it just a waste of time?
Melanie American: World War 1? Never heard of it! I vaguely remember something about Eisenhower and a war in Europe, but I think that was later – not a hundred years ago! If there was a World War 1, it must not have been very important.
Gary: "The general purpose of [the relevant] rules of practice … [requiring the appellant to provide a sufficient record] is to ensure that there is a trial court record that is adequate for an informed appellate review of the various claims presented by the parties…. One specific purpose of a motion for articulation of the factual basis of a trial court's decision is to clarify an ambiguity or incompleteness in the legal reasoning of the trial court in reaching its decision…. Further articulation … is unnecessary whe[n] the [memorandum of decision] adequately states its factual basis, and when the record is adequate for informed appellate review of the [judgment]."
Melanie American: That's right, no one even mentions it.
Gary: That is one reason why I decided to write a book about a significant but largely overlooked episode that helped to bring the United States into the war. The book is entitled The Yarrowdale Men and America's Entry into the Great War. It will be published by Cheops Books next spring. A tale of high adventure and severe hardship, it relates the experiences of a group of American sailors taken prisoner in December 1916, in the middle of the North Atlantic, by a German surface raider. The Americans had been serving as members of crews aboard British freighters, each of which was armed with a small gun designed to ward off U-boat attacks
Melanie American: Are you sure this all happened? It sounds more like you are writing a novel.
Gary: This is a true story of a group of brave Americans who survived their capture on the high seas and their captivity in German POW camps.
Moderator: Time for question 2: Do you have any ancestors who served in WW1?
Melanie American: Never heard of any. I doubt it. I wouldn't even know how to find out, assuming WW1 was a real war and not just a movie or a romance novel.
Gary: I have at least three ancestors who served in WW1, namely my grandfather Alfred Sulley, and my great uncles Francis and Willard Sulley.
Melanie American: Sounds like a lot of work. If it's not on Google, I wouldn't know how to find it.
Moderator: Time for the third question: Did WW2 have anything to do with WW1?
Melanie American: I don't think so. Why would it? I remember something about World War 2, but never World War 1.
Gary: WW1 ended with the Treaty of Versailles of 1919, whose vindictive provisions blaming Germany for the war and imposing massive reparations largely lay the groundwork for a renewal of hostilities just 20 years later. Also, the severe casualties suffered by Britain and France in WW1 made these countries extremely reluctant to go to war again, despite the growing menace presented by Adolf Hitler's Nazi Germany. This lead to the disastrous policy of appeasement, and, once WW2 began, the conduct of the Phony War from September 1939 until May 10, 1940.
Melanie American: I've certainly heard about Hitler! He was the worst dude who ever existed. Did he have anything to do with World War 1?
Gary: Adolf Hitler enlisted in and fought with the Imperial German Army on the Western Front, serving primarily as a messenger. In 1918 he was gassed with mustard gas while in the trenches facing those occupied by British troops and temporarily lost his eyesight.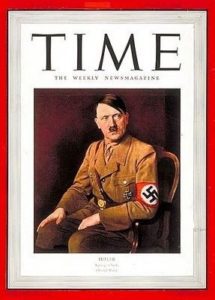 Melanie American: I guess it was important to defeat that bad guy, Hitler. But then it might have been better not to run into him at all, not even in a dark alley let alone on the battlefield.