Lucius Antonius: Ancestor of Colonel Sir Edward Ware
Lucius Antonius was the original ancestor of Colonel Sir Edward Ware in the Edward Ware Thrillers at War Series. Born in ancient Rome in the first century B.C. he was an officer under Julius Caesar during the Alexandrian Campaign in Egypt in 47 and 48 B.C. After the war was over he married one of Cleopatra's surviving serving women. When his commanding officer Julius Caesar was assassinated in the Roman Forum in 44 B.C., Lucius Antonius and his new bride fled to Britannia, the Roman colony in England. That was to be the home base of the Antonius family from that point on. Two later heroes of Edward Ware Thrillers at War novels came from his line and from Britannia: Caelius Antonius and Caius Antonius. These were the heroes of the Cherusci Plot and the Vesuvius Plot respectively. They were to gain fame fighting the Germanic tribes in the first century AD.
Cleopatra's Stone from the point of view of Lucius Antoniuis has just been published by Cheops Books LLC.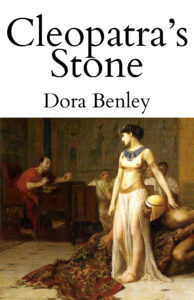 Save
Leave a reply