Helga's Reich And The Mufti Of Jerusalem:
In the wake of Trump's decision to drop out of the Iran Nuclear Dea you have something interesting developments. You say, "The UK is basically opposed to almost all of Israel's policies and is sympathetic to the Palestinians." Well, this sounds very interesting. Considering that Britain was the author of the Balfour Declaration about Israel returning to its homeland one hundred years ago right after World War 1, why do you find yourself in such an impasse? Is this what your membership in the EU, dominated by Germany, has done to your country???
Germany always preferred the Islamic types and wanted to ally itself with them. During WW1, Germany allied itself with the Ottoman Turks as you know very well. They wanted to build a Berlin to Baghdad Railway. Hitler was friends with the Mufti of Jerusalem, who was a Palestinian. At first Hitler wanted to send some of the Jews who were being sent out of Germany back to Israel, but the Mufti protested and said he didn't want them in Jerusalem.
Why does England, on the eve of Brexit, want to ally itself with the Nazis against the Jews? Palestinians are almost synonymous with terrorists themselves as a group. Israel is the only democracy in the Middle East.
In the historical thriller Helga's Reich, one of the Edward Ware Thrillers at War Series, the Mufti of Jerusalem actually kidnaps Edward. He tries to force him to give up the Lawrence maps, key to world domination. Hitler wants them. So does Helga.
Helga von Wessel, Hitler's chiefest spy, has killed Edward's mother in a bombing raid in 1940. She has almost murdered his wife and destroyed his marriage. She has helped Hitler kidnap his only daughter, Thomasina. Now she stands in the way of Edward and Britain winning the war. Does Edward have what it takes to kill her off before this vamp who is the mother of his illegitimate son, Leopold, ruins his career and takes the Lawrence maps which he is sworn to protect? The battle between Edward and Helga plays itself out against the backdrop of World War 2.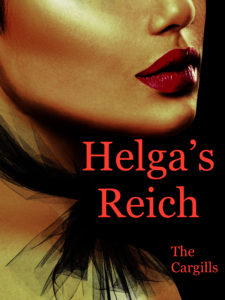 Comments Off

on Helga's Reich And The Mufti Of Jerusalem