Facebook Party For Salisbury Affair:
Dora and Edward Ware were married at Salisbury Cathedral on September 30, 1934. The cathedral was a stone's throw away from Edward's ancestral estate, Ware Hall, which had been in his family since Roman times. Conquerors came to this area of England such as William the Conqueror in 1066. Conquerors went. But nothing much happened in this area of rural England until after the time of the Wares in March of 2018 the Russian government used it as a staging ground for a chemical attack. They were after a spy of all things, which is reminiscent of the action in Salisbury Affair and other books in the Edward Ware Thrillers at War Series with the von Wessels, Hitler's top spies, fighting the Wares and Churchill.
The Facebook Party on May 4 will concentrate on this one hundred year old issue of chemical attacks which started during World War 1. Indeed even Hitler was a victim of such an attack. Recently the US, Britain, and France staged a bombing raid on Syria for being a rogue state that still used such weapons against its own people under the aegis of Russia. The Salisbury Affair becomes more than just a story about Dora and Edward.
Who is the saboteur following Dora about on the doomed Morro Castle in September of 1934? Who is the terrorist who set fire to the first class writing room on the ocean liner? Who followed Dora and her new husband, Colonel Sir Edward Ware, to Salisbury Cathedral on their wedding day? A creature in a black robe is wielding a sword in the balcony and clanging the bell. The freak seems to summon the legions of the dead who surround them in the hills peppered with bronze age burial mounds, who seem to rise from the cloisters in the center of the cathedral where unknown dead from the Middle Ages still reside. Why does she see her new husband handing money over to the saboteur on her wedding day in a hidden garden of Ware Hall? What does it mean to be married to Colonel Sir Edward Ware? When she finds out the truth it will change Dora's life forever.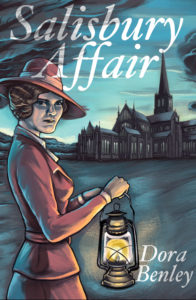 Comments Off

on Facebook Party For Salisbury Affair: