Nightmare at Ware Hall: Salisbury Plot:
The reader will find himself often visiting Colonel Sir Edward Ware's estate calle Ware Hall in the south of England just outside Salisbury in the New Forest. Scene after scene in many of the Edward Ware Thrillers at War Series take place there. The reader first gets introduced to the centuries old abode of the Ware family in Key to Lawrence Special Edition. He sees it from the point of view of Miss Dora Benley, fresh from America, whom Edward has just rescued from the wreck of the Lusitania in 1915. In the second novel of the series which is being published this spring on May 1, Key to 1935: The Salisbury Plot, Nightmare at Ware Hall, the reader sees the estate through the eyes of the new bride, again fresh from America and the sinking of the Morro Castle in which she has lost her first husband, Michael Byrne. Dora finds Ware Hall a mysterious place full of secrets which she cannot fathom. She hears whisperings in the hallway at night. When she looks her mother-in-law is whispering to her husband. She can only make out a word here and there. She comes upon her husband meeting with the young man that she first encountered on the Morro Castle, the young man who sank the ship. They are talking heatedly in the garden. She sees Edward paying him money, and she cannot figure out what her upstanding husband would have to do with a saboteur. Edward invited the same young man to their wedding. She was shocked to see him in the receiving line at her new home. Worse someone sets the estate on fire late one night, and the servants have to form a bucket brigade. Who is after Dora and her husband and why?
The world of Ware Hall, estate of the Ware family for 2000 years back to Roman times, adds to the atmosphere of this historical thriller, Salisbury Plot, that takes place during the 1930's. It lends the suspense novel a gothic charm.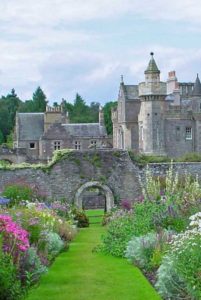 Leave a reply