Gaius Antonius Goes To Palma, Mallorca:
A couple of days later Gaius Antonius's ship landed in the harbor of Palma, Mallorca in the Baleric Islands halfway across the Mediterranean Sea on the way back to Ostia and Rome. Gaius Antonius came ashore to find a messenger for his news. He did not want to have to wait until arriving back in Italy to inform his mentor about the big find —- the map itself.
Gaius did not care about the clear, blue water or the rocky cove in Mallorca. He did not pay much attention to the magnificent stone arch half covered with seaweed emerging from the salty brine near the coast of Mallorca either. Nor did he get bewitched by the surf that crashed against the sandy beach.
He got off the boat for the night and searched for a fisherman for hire. He spotted one. Then he waited for that fisherman to unload his catch of the day from his nets and to meet his eye.
Finally he gave Gaius the eye just as he expected. He must be used to ships putting ashore and having wealthy passengers who wanted chores done for them big and small. Gaius would wager, though, that none so far had a task to assign that was so ambitious and so important.
Gaius motioned to the man while he held out a hand full of coins. He provided many an aureus. The man looked at the money and counted it several times over. His eyes glistened. He obviously was satisfied. It was a sum for which he would be willing to risk his life.
"I am on my way back to Italy from Mallorca, but my ship won't sail again for two days. I want you to go ahead of us and see if you can reach Italy first. I will hand you a letter. You are to take it to Cato, a senator who will be very interested in its contents. I can promise you that. He will certainly add to the sum of coins I just handed you," he carefully instructed the man.
The man nodded in acknowledgement of what Gaius was saying.
The fisherman followed him back to his lodging for the night by the shore at the overseas estate of one of Cato's friends from his school days back in Rome. He had moved to Roman Spain in Mallorca and set up his own latifundia. He was one of the first readers of Cato's book on the subject and one of his greatest admirers. From his vantage point by the sea Gaius could see grape vines tracing their way up the hillside above him.
Trees grew between the rocks near the white sand. Gaius took a seat at a table and ordered refreshments from a slave. The slave also brought food and drink for the fisherman for hire. He brought a carafe of the finest vintage from the estate made right here on Mallorca.
Gaius composed the letter to his mentor, knowing full well that the fisherman would not be able to read it:
Cato: I have in my possession the drawing we were seeking. Tanit herself brought it to New Carthage. I saw her in a robe in which she was trying to disguise herself. I followed her, though she did not see me. I could swear it. I followed her all the way to the sea wall where we Romans once assaulted the town during the Second Punic War. I remember it from my childhood history lessons, though I never journeyed to the place before. She paid one of the watchmen to hide it in the wall in a crevice between the bricks.
The next day I disguised myself as one of the watchmen. I found the crevice all unobserved by my confederates. At the end of the watch I took it back to my lodgings. I locked the door and examined it. It was the very drawing I made that day in Carthage with you by my side.
I think it is all the evidence of the treachery of the Carthaginians that you will need. I am not going to give it to the fisherman. I think he is reliable and trustworthy, but I do not know him. And I do not want to take any chances with what we cannot afford to lose. But I am sending word ahead of me so you can be alerted and can start making plans.
Yours truly,
Gaius Antonius
The fisherman left right away. Gaius's ship did not leave until the day after the next after taking on more provisions and wares that needed to be transported back to Rome. But it probably was better that he did not look as if he were in too much of a hurry to get back to Rome in case anyone was observing him.
Looking down to an aquamarine and blue water beach with pinkish sand and reddish cliffs on each side covered with vines, he imagined he saw somebody looking up at him from behind one of the projecting rocky cliffs. Whether it was his imagination he could not tell for sure. He just knew he had better be as careful as he could be. That night he directed Cato's friend to station a guard outside his room.
He was impatient to be off. Once at sea he spent much time at the railing on deck looking out to the horizon and wondering if he could be the first one to spot their landfall.
He saw two dark specks on the shore early in the morning right after dawn. They grew bigger and bigger and took on form and shape. They filled him with hope when they became the all too familiar and beloved forms of Lavinia and Cato there at the dock to greet him.
Cato had no doubt studied the schedule of ships arriving at the port of Ostia. And he had probably been here hours ahead of time, probably early last night or late yesterday afternoon. Lavinia was leaping up and down at waving at him. He could already feel her kiss on his lips.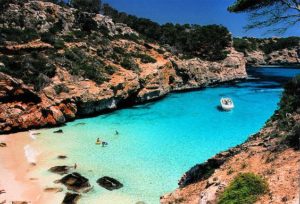 Leave a reply