Edward's And Dora's National Park Tour:
In Old Faithful Plot Dora and Edward are headed west along the Lincoln Highway to Yellowstone National Park to escape Adolf Hitler and his spies. The spies are searching for the Lawrence maps, key to world domination, that he happens to have with him. He must hand the maps over to an aid of Winston Churchill, sent to America, before the German dictator does his worst.
But along the way to Yellowstone Dora and Edward get diverted to two other national Parks. They end up in Petrified Forest along Route 66 and even the Grand Canyon National Park. So it turns out to be quite an adventurous romp including a surprise Gila Monster!
Enter Helga and Herr von Wessel, Hitler's top spies. They warn Colonel Sir Edward Ware and Dora that either they hand over the top secret maps, key to world domination, or they will blow up Yellowstone National Park. They will turn the famous geyser basin into volcanic rubble – and the rest of America, too, which would be buried in volcanic ash just like Pompeii.
And if that doesn't work they have an even darker plot up their sleeves, one that would change history itself.
There is still time to preorder the alternative history thriller on Amazon. It will be published on June 16.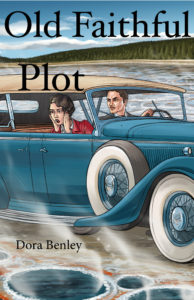 Leave a reply