Tanit Sails Away In The Middle Of The Night:
Gaius was so indignant about Tanit murdering his father in cold blood — the very man who had once paid host to her when she was visiting Rome and his latifundia — that he immediately scribbled a note and sent for Scipio Aemilianus though it was the middle of the night.
About an hour later Scipio arrived fully dressed in his military outfit. Gaius filled him in on what had just happened and how Tanit had outwitted them in the end and was now sailing away scott free at night.
"I think we should start sending the Roman navy to Carthage tomorrow," Gaius insisted. "We cannot let her get away with murdering my father and not paying for the crime."
Scipio nodded. "We will send the patrol boats to give them a scare. Of course the rest of the Roman army will be sailing within the week. We should all make it by Wednesday next."
Gaius did not go back to bed that night. He worked straight way through packing his essentials for the campaign against Carthage. He wanted to leave with the advance boat to see if he could somehow catch Tanit before she arrived back in Carthage. He confided in Scipio that he wanted to go and why. And of course Scipio, the commander, honored his wish.
But as it turned out Gaius ended up sailing across the entire Mediterranean without once catching sight of the bitch of his creating. He had once flirted with her and encouraged her, making an absolute fool of himself. Fortunately nobody knew about it but himself and even that was too many people.
Days later they sailed into the port of Carthage, built as an amazing great circle in front of the city walls. It was now almost all emptied out. As they sailed up the last ships were disappearing out to sea. It would not do them much good. Soon they would not be able to bring in provisions no matter what.
Gaius gazed out to sea. He hoped one of those boats was not Tanit. He did not want her to escape.
Scipio was an experienced expert at siege warfare. They at once began constructing great siege engines. It was a slow way to get vengeance but a more certain one that trying to make attacks and enter the city prematurely. But still he worried about Tanit.
"Scipio, I would like to take a ship or two and follow that last Carthaginian ship out of the harbor," Gaius explained. "I think it may be the princess of Carthage who stayed at Cato's house as a hostage and a guest and then turned on him and murdered him in cold blood."
 Of course Scipio gave his permission as the leading general. Gaius set sail in the direction the ship had escaped.
But the ship proved very elusive and hard to follow just like Tanit. It would appear on the horizon far ahead of them only from time to time and then mysteriously disappear again. It only appeared often enough so that they could still follow it. And it was progressing quite a distance, too. It was obviously not headed for a neighboring port such as the Samnites.
He headed out onto the open sea wondering if Tanit would lead him to a secret stash of weapons or soldiers that he should know about. It took a couple days where he would catch sight of the ship and once again it would elude him. And another restless night would pass.
All too soon he found himself back in Spanish waters approaching the port of New Carthage. But low and behold, no sooner did the port come in view than he saw a Phoenician navy massed there to greet him. All the ships looked like the one he had drawn for Cato not that long ago. He had brought only two Roman ships with him. He had followed Tanit into a trap. Worse, he could catch sight of the Princess herself on the upper deck next to the captain. Her hand was clapped over her mouth. She was laughing at him. Her eyes were full of evil mirth — and fire.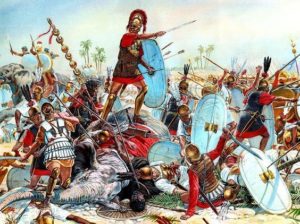 Comments Off

on Tanit Sails Away In The Middle Of The Night