Captive at the Berghof: Part 1 in German:
Captive at the Berghof: Part 1 by Dora Benley and published by Cheops Books LLC will bring out a German edition on December 15. Newly translated and released for the first time, this volume represents Cheops Books LLC's first release in a foreign language of any kind. We thought it was particularly appropriate to publish Captive at the Berghof in German. It is after all about Germany during World War 2 and the lead up during the 1930's.
Hitler has found out about Colonel Sir Edward Ware's secret undercover activities for Winston Churchill, and he's playing hardball. He kidnaps Thomasina, Edward's daughter, and won't give the child back unless Edward and his wife, Dora, hand over the key to world domination – the Lawrence maps. They'd better do something fast before Thomasina truly becomes Hitler's daughter.
Captive at the Berghof was meticulously researched on the ground in Germany by the authors. They visited Nuremberg and climbed the stands where Hitler spoke and where Hitler was photographed by Leni Riefenstahl. They also ate in the current day Burger King which used to be the station where the lights for the arena were controlled. They did not miss the site of the Berghof in the Alps Mountains where Hitler used to spent much of his time.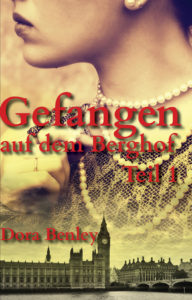 Leave a reply