Background for Dark 3: Special Edition:
We took a generous amount of time to complete the trip, 52 days to be exact, driving no more than about 100 miles per day or less and stopping at a lot of places. We exited Arizona on I-8 stopping at Gila Bend and Yuma. We drove over the mountain to California and it got instantly much cooler. It was 100 in Arizona and only 63 in San Diego where we stayed overnight at El Cajon. We proceeded to Encinitas with its nearby Moonlight State Beach. Then we spent 2 days in San Juan Capistrano where we visited the Mission. Then we stayed for a couple of days at the Loews Hotel in Santa Monica with Muscle Beach in front of the hotel.
Then we left the coast behind for awhile (I'm not the type to drive the Big Sur), and drove over the mountain between Los Angeles and Bakersfield. We also stayed in Fresno before spending a few days in Yosemite National Park in the Sierra Nevada Mountains. We rented a cabin from the Redwoods at Yosemite and stayed in the Wawona section of the park near the Wawona Hotel. The Mariposa Grove of Big Trees wasn't far away. Huge sugar pines grew near the cottage. I have a souvenir pine cone that must be two feet long! I could send you a picture of that. Then we got back to the Valley of California and drove north to Stockton. Only then did we head back towards the Pacific Coast through the Wine Country, driving through Napa and Sonoma until we reached Santa Rosa north of San Francisco. After that we stayed in a town called Ukiah before moving on to Garberville on the edge of the Redwood Country. From here we drove down the Avenue of the Giants. We drove through increasingly deserted country with beaches in view where we stopped from time to time to take photos. After Eureka we reached Arcata where we stayed for the night after stocking up on redwood souvenirs along the highway. Right now sitting at my dining room table I see evidence of that drive. I am looking straight at redwood napkin holders. We stopped at the Redwood National Park Visitors' Center in Crescent City and proceeded to our destination at Brookings, Oregon. In this remote location we enjoyed a stay at the Best Western Beachfront Inn right on the beach. We took photos of huge logs and trees washed up on the beach. The headlands and sea stacks were scenic, too.
This trip proved to be the background for much of the setting of Dark 3: Special Edition where I feature a chase scene along the West Coast.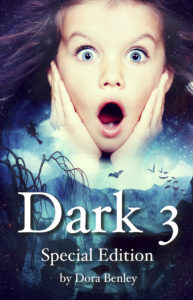 Save
Leave a reply